Accessible Features-Foothills Area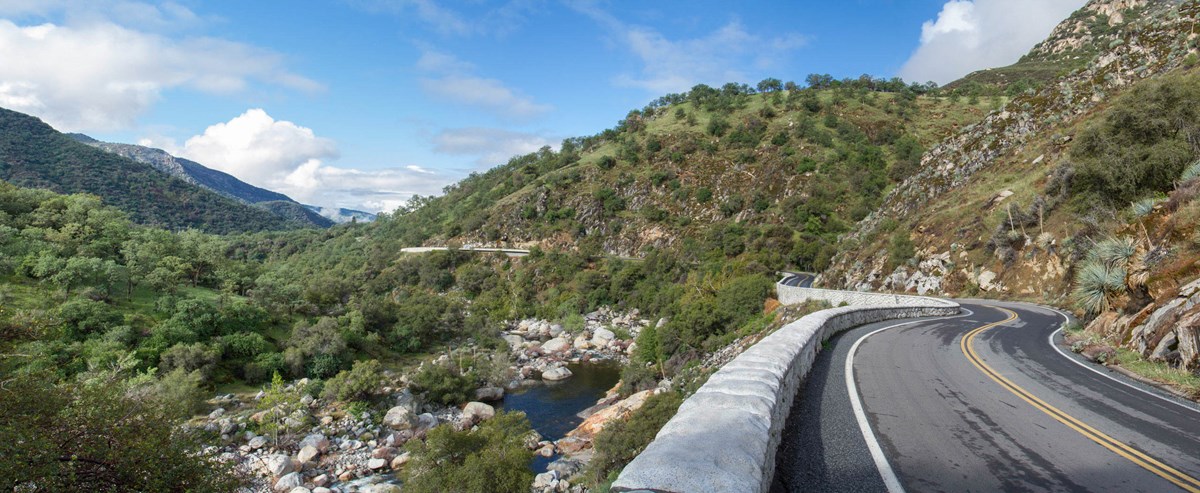 Featured Experiences
Hospital Rock Picnic Area
Known as Pah-din by local Native Americans, Hospital Rock provides a place to picnic, hike to the river, view pictographs, and enjoy accessible exhibits. Adjacent to the parking lot, you will find exhibits describing why Hospital Rock is a special place for diverse groups of people, especially for California Native Americans. The exhibit includes some audio material and three tactile panels. A paved, moderately-sloped path leads to an accessible flush toilet, a water fountain, and picnic tables. There is one extended picnic table on a paved, level area. This accessible picnic site also includes a grill. Cross the highway from the parking lot to discover pictographs, bedrock mortars, and to reach the river. The area around the pictographs, while flat, is bound by two roads—beware of traffic approaching with limited visibility. Access to the pictographs viewing platform is via a set of short, steep stairs. For those with limited mobility, the pictograph can be seen from ground level with binoculars. The area around the bedrock mortars is relatively flat and paved. Near the bedrock mortars, a steep, narrow, and hard-packed path with some stairs leads to the river.
Parking: There are two designated accessible parking spaces at the picnic area with a shared access aisle. They are on a significant slope that may not meet everyone's needs.
Tunnel Rock
The historic Generals Highway once went through this tunnel, blasted through the rock by the Civilian Conservation Corps. Now, it's a popular photo spot with iconic views. Access to the base of the rock and the tunnel is level and paved. Be aware—poison oak is common here.

Parking: Two designated accessible parking spaces are available on the Tunnel Rock side of the road. Parking is on a slight slope, and does not include access aisles.
Historic Park Entrance Sign
Take a picture at the historic Sequoia Park Entrance Sign. A steep, rocky trail goes to the river, and is not suitable for those using mobility devices. Parking: A slight slope leads from an accessible parking space to the wooden sign.
Other Activities
Facilities and Services
Foothills Visitor Center & Picnic Area
A native plant garden with a 4-foot-wide (1.2 m) gravel path and three benches is just outside the visitor center. Nearby are accessible flush restrooms and a drinking fountain. The picnic area across the street has one extended picnic table on an uneven, hard-packed dirt surface. The visitor center doors include a power-assist button. Inside the building, there are tactile educational exhibits, which are generally accessible to visitors using wheelchairs. Rangers can provide park information at a low desk, although it does not provide knee clearance. Borrow a Braille version of the official park map here.

Parking: The parking area includes a 15-foot-wide (4.5 m) accessible parking space adjacent to a paved path to the entrance. An additional wide accessible parking space is available at the picnic area across from the road.
Campgrounds
Potwisha Campground
Potwisha Campground offers 42 tent and RV campsites. Sites 30 and 40 are designated accessible and have accessible food storage containers, extended picnic tables, wheelchair-accessible grills, a hard-packed and level tent pad, and a designated accessible parking space. The campground and some campsites are on a significant slope, which may make access to all campground facilities difficult. The campground has accessible flush restrooms, a water spigot, and sink.
Buckeye Flat Campground
Open seasonally, from late March to late October, Buckeye Flat Campground has 28 tent-only campsites. RVs and trailers are
not allowed in the campground, or on the narrow, winding road to the campground. Sites 20 and 40 are designated as accessible. The campground has accessible flush toilets and a water spigot. The campsite registration is up a steep, paved slope. Ask the campground host or a ranger if you would like assistance. If no one is available, proceed to your site and look for a ranger the following morning.

Site 20 has an extended picnic table, a food storage container, fire ring, a level tent pad on a hard-packed surface, and a designated accessible parking space. A raised grill is available, although there is limited clear surrounding space. There is a level, concrete path to campground facilities. The route from the accessible parking space to the campsite is up a moderately-steep, paved ramp.

Site 40 has an extended picnic table, a food storage container, a raised fire ring and raised grill, a level tent pad on a hard-packed surface, and a designated accessible parking space. The campsite is flat and mostly paved, with wide pathways for wheelchair access.
South Fork Campground
South Fork Campground is 19 miles (30 km) from the Ash Mountain Entrance Station. It can be reached via South Fork Drive, a narrow, rough dirt road 6 miles (9.6 km) south of the main park entrance. The campground has 10 tent sites open year-round. Trailers and RVs are not permitted in the campground. There are vault toilets, but drinking water is not available here. While there are currently no designated accessible campsites, we are dedicated to improving sites in the near future.
Potwisha Amphitheater
Assistive listening devices are available for programs held at the amphitheater. The amphitheater is located in Potwisha The remote South Fork Campground features 10, tent-only campsites. Campground and is reached by a short, unpaved path near campsite 2. It includes rows of backless benches. Some stargazing programs may encourage participants to walk across the Generals Highway to a paved overflow parking area.
Other Facilities and Services
WiFi: At visitor center
RV dump station
Pay phones
Last updated: April 14, 2020