Leaf to Landscape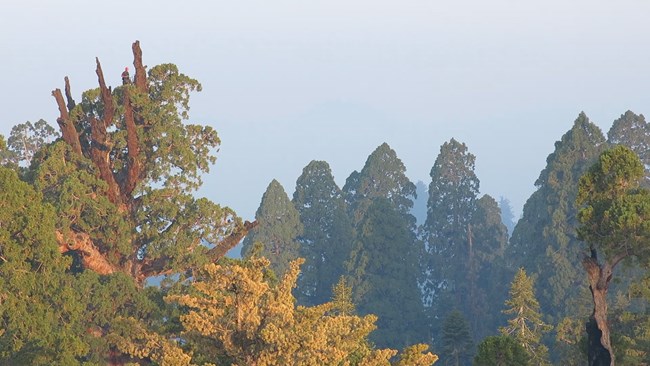 Purpose of Study
A recent drought in California resulted in millions of dead trees in low to mid-elevation areas of the Sierra Nevada. While relatively few giant sequoias died during the drought, scientists observed die-back of giant sequoia foliage in some areas. This study is investigating how water stress affects giant sequoia tree health.
Scientists have surveyed over 4000 trees for foliage die-back and are studying the health of up to 60 trees in detail -- at both high and low foliage die-back sites. This information will be linked with other field and remotely sensed data (collected via airplane) for use in landscape-scale assessments and planning.
Research Questions
The two main questions this study addresses are:
How does the response of giant sequoias to severe drought vary across the landscape and why?

What can patterns of drought response tell us about vulnerability of giant sequoias to climate change?
This study is conducting similar research on eight additional species of trees in the park.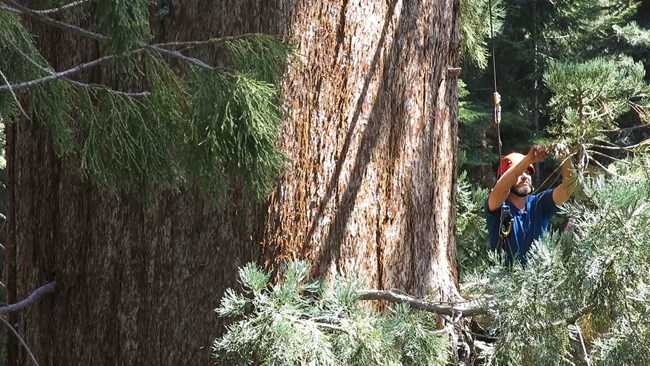 Where is research occurring?
Detailed tree monitoring occurs in the Giant Forest area of Sequoia National Park, and more extensive field surveys occur in several groves in the parks. Even more extensive data are collected via sensors on an airplane, covering all groves in the parks and some on adjacent lands.
Why is this research important?
This study will help park managers understand how sensitive giant sequoias are to drought and where giant sequoias are more or less sensitive to drought stress. Knowing about the variability across the landscape will help park managers plan treatments (like prescribed fires) to help giant sequoia forests cope with climate change.
Who is doing this study?
Multiple partners are involved in this project due to the variety of expertise it requires. It is a partnership of the University of California at Berkeley, Carnegie Airborne Observatory, Stanford University, Sequoia and Kings Canyon National Parks, U.S. Geological Survey, and U.S. Forest Service.
Learn More
Link to a video about this project to see scientists at work in the field and hear their perspectives about this research.
Last updated: October 4, 2023