Seasonal Position of Fire Scars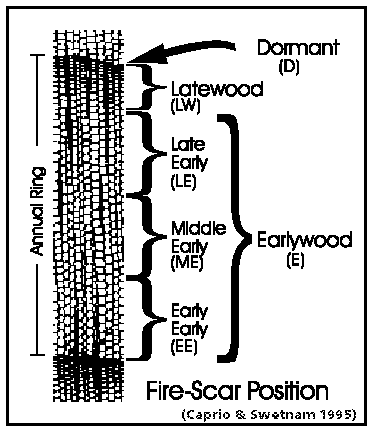 This image (figure 2 from Caprio & Swetnam 1995) illustrates the potential position of fire scars within an annual growth ring. It shows specific areas of an annual ring used to designate intra-annual fire-scar positions. Through detailed examination of where a scar was formed within a ring the approximate season of past fire occurrence can often be determined. Understanding the tree-ring growth phenology in a particular area further enhances the interpretation of this information.
In the Sierra Nevada scars formed in the earlywood (EE to LE) indicate fire occurrence during early-to-mid summer (uncommon in the southern Sierra Nevada). Scars formed in the latewood (L) indicate fire occurrence during late summer while dormant season scars (D) indicate fires late in a year (latewood and dormant season scars are the most common in this region).
Last updated: March 1, 2015