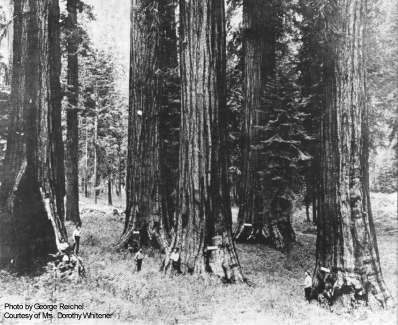 Seeing Things Whole: The Essential John Wesley Powell. W. deBuys. 2001. Island Press, Washington, D.C. 289 pp. (During his travels in the West, Powell observed fire's frequent occurrence and noted that during dry periods his surveyers were not able make observations because of all the fires in the mountains and the smoke that resulted. He also recognized changes in fire regimes as EuroAmerican settlement occurred with decreasing fire frequency leading to greater fuel accumulation that resulted in hotter fires.)
Forest Fires. F.B. Hough. 1882. Report on Forestry Submitted to Congress by the Commissioner of Agriculture. Washington, D.C.
The Relation of Forests and Forest Fires. G. Pinchot. 1899. National Geographic Magazine. October.
Stanislaus and Lake Tahoe Forest Reserves,California, and Adjacent Territories. Sudworth, G. B. 1900. In Annual reports of the Department of Interior, 21st annual report of the U.S. Geological Survey. Part 5, 505–61. Washington, DC: Government Printing Office.
Notes on Regions in the Sierra Forest Reserves, 1898-1900. George B. Sudworth,
Helping the Sierra Sequoias. A.J. Wells. 1906. Sunset 16:282. (Article provides an early description of giant sequoia ecology and what we would now call a prescribed burn in 1904 in General Grant National Park (now Grant Grove area of Kings Canyon N.P.), "...lightly burned over to remove the coniferous rubbish".
The Effect of the Partial Suppression of Annual Fires in the Sierra Nevada Mountains. M. Marsden. 1906. Sierra Club Bulletin Jan.:22-24.
Conservative Lumbering. C.R. Johnson. 1909. Commonwealth Club of California Transactions 4:56-58.
Fire as a Biological Factor. J.C. Blumer. 1910. Plant World 13:42-44.
How Fire Helps Forestry. G.L. Hoxie. 1910. Sunset 25:145-151.
Fire and the Forest--The Theory of "Light Burning" F.E. Olmsted. 1911. Sierra Club Bulletin Jan.:42-47.
Did the Indian Protect the Forest? W.E. Coman 1911 Pacific Monthly, Vol. 26, #3 (Sept): 300-306.
Forest Fires and Forestry in the Southern States. H.H. Chapman. 1912. American Forests 18:510-517.
Forest Fires: Their Causes, Extent and Effects, with a Summary of Recorded Destruction and Losses. F.G. Plummer. 1912. USDA Forest Serv. Bull 117, 39 pp.
Light Burning Versus Forest Management in Northern California. R.H. Boerker. 1912. J. Forestry 10:184-194.
Forest Destruction Prevented by Control of Surface Fires. J.A. Kitts. 1919. American Forestry 25:1284, 1306 (Author advocates using controlled surface fire for fuel reduction to prevent crown fires. He also provides basic strategies and prescriptions for carrying out controlled burns.)
Preventing Forest Fires by Burning Litter. J.A. Kitts. 1919. The Timberman July:91.
Graves Terms Light Burning 'Piute Forestry'. H.S. Graves. 1920. The Timberman January:35
The Forest Service and Light-Burning Experiments. H.S. Graves. 1920 American Lumberman, 2337 (Feb. 28): 76-77.
'Piute Forestry' or the Fallacy of Light Burning. W.B. Greeley. 1920. The Timberman March:38-39.
"Piute Forestry" vs. Forest Fire Prevention. (Acrobat PDF file - 10kb) A.S. Leopold. 1920. Southwestern Magazine 2:12-13. (See 1924 Leopold reference below written after rethinking his position.)(text is also reprinted in: The River of the Mother of God and Other Essays by Aldo Leopold. S.L. Flader and J.B. Callicott (ed). 1991. The Univ. of Wisconsin Press. 384 pp.
An interesting 1920 series in Sunset Magazine debating fire suppression and "light burning" (a term for "prescribed burning" at the turn of the century) and their effects on California forests. (The questions about fire's role in Western forests are not new.)
Woodsmen, Spare Those Trees! (Why Fire Protection Does Not Really Protect Our Remaining Timber). S.E. White. 1920. Sunset Magazine. 44:23-27,108,111-116.
The Torch in the Timber (It May Save the Lumberman's Property, But It Destroys the Forest of the Future). H.T. Graves. 1920. Sunset Magazine. 44:37-40,80-90.
Reply to White's article by the Chief of the U.S. Forest Service.
Getting at the Truth. S.E. White. 1920. Sunset Magazine. 44:62,80-82.
Reply to Graves' article.
What is the Truth. P.G. Redington. 1920. Sunset Magazine. 44:56-58.
The Fire-Type Forest of the Sierra Nevada. W.L. Jepson. 1921. Intercollegiate Forestry Club Annual 1:7-10.
Recent Studies on the Effect of Burning on Grassland Vegetation. R.I. Hensel. 1923. Ecology 4:183-188.
Grass, Brush, Timber, and Fire in Southern Arizona. (Acrobat PDF file - 28kb) A. Leopold. 1924. Journal of Forestry 22:1-10. (See 1920 Leopold reference above written before rethinking his position.)(text is also reprinted in: The River of the Mother of God and Other Essays by Aldo Leopold. S.L. Flader and J.B. Callicott (ed). 1991. The Univ. of Wisconsin Press. 384 pp.
The Role of Fire in California Pine Forests. S.B. Show and E.I. Kotok. 1924. USDA Dept. Bull. 80 pp.
Ecological Conditions in National Forests and National Parks. C.C. Adams. 1925. Scientific Monthly 20:561-593. (Summary from Parsons and King [1980]: "Basic differences in the management of national parks and national forests are discussed. Contains a section on Sequoia which discusses several subjects of ecological importance to the park including the feasibility of 'light burning', grazing, exotic species, and the reason for proposed additions to the park.")
More "Piute" Forestry. W. Phillips. 1925. [Forest] Service Bulletin, Vol. 9, #1 (Jan. 5): 10.
Factors Determining the Natural Reproduction of Longleaf Pine on Cutover Lands in LaSalle Parish, Louisiana. H.H. Chapman. 1926. Yale Forestry Bull. 16.
Light Burning--Report of the California Forest Committee. D. Bruce. 1928. J. Forestry 21:129-133.
The Forests that Fire Made. S.W. Greene. 1931. American Forests 37:583-584, 618.
Big Trees. W. Fry and J.R. White. 1931. Stanford Univ. Press. 114 pp.
The Bobwhite Quail: Its Habits, Preservation and Increase. H.L. Stoddard. 1931. Chas. Scribner's Sons. 559 pp.
Translating the Autobiography of a Big Tree. C.C. Presnall. 1933. Yosemite Nature Notes 12:5-6.
Fire Studies in the Mariposa Grove. C.C. Presnall. 1933. Yosemite Nature Notes 12:23-24.
Use of Controlled Fire in Southeastern Upland Game Management. H.L. Stoddard. 1935. J. Forestry 33:346-351.
The Passing of the Lolo Trail. E. Koch 1935. J. For. 33:98-104.
Relation of Burning to Timber and Wildlife. H.L. Stoddard. 1936. First N. American Wildlife Conference 1:399-403.
Fire as an Ecological and Silvicultural Factor in the Ponderosa Pine Region of the Pacific Slope. H. Weaver. 1943. Journal of Forestry 41:7-14.
Preliminary Report on the Study of the Meadows of Yosemite Valley." by Emil F. Ernst. 1943. (Typescript File 880-01, Yosemite National Park Research Library, May 15, 1943)
Fire and Pines--a Realistic Appraisal of the Role of Fire in the Reproducing and Growing Southern Pines. H.H. Chapman. 1944. American Forests 50:62-64, 91-93.
Vanishing meadows in Yosemite Valley. E.F. Ernst. 1949. Yosemite Nature Notes 28:34-41.
The Kaweah Basin Research Reserve: An Untouched Area for the Future. E.L. Sumner. 1950. Regional Director to NPS Director February 6, 1950, Sequoia National Park, FR 1950, 1970-1976, Ma-u Box 327, Sequoia National Park Archives. An area of the upper Kern River watershed where lightning fires would not be suppressed if they occurred. The first such area established in a national park and an important early step in the development of NPS policy on nature fires.
Ecological Changes in the Ponderosa Pine Forest of Cedar Valley in Southern Washington. Weaver, H. 1959. Journal of Forestry 57:12-20.
Planned Burning as a Management Practice for California Wild Lands. L.T. Burcham. 1959. pp. 180-185. In: Proceedings, Society of American Foresters. San Francisco, California.
Effects upon the forest of natural fires and aboriginal burning in the Sierra Nevada. R. Reynolds. 1959. M.S. Thesis. Univ. California, Berkeley. 262 pp.
The Ageless Relicts. N. Taylor. 1962. St. Martin's Press. 115 pp.