Douglas-fir Tussock Moth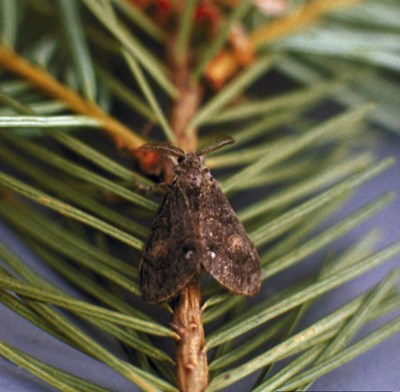 The Douglas-fir Tussock moth is a native insect found in the parks and throughout the Pacific Northwest. The Douglas-fir tussock moth caterpillar is easily identified by the four prominent tufts (or tussocks) that run along its back. The moth feeds on Douglas-fir trees and other true firs. The Douglas-fir tussock moth population fluctuates, with major population increases every 7 to 10 years—the last big outbreak in the parks was in 1997-1999. In 2021, we began to notice signs of another population surge.
What Happens During A Population Surge?
Large numbers of caterpillars feed on fir tree needles, sometimes defoliating trees. They may fall from the tree canopy of firs and land on anything below, including people. Caterpillars will finish their feeding cycle and remain dormant until the following year, when they typically resurface in June. It is likely that they will be present in much greater numbers in 2021.

Tussock moths can kill trees. However, it is possible for adult trees that have been defoliated up to 80% percent to still survive. Smaller seedlings and sapling often do not always recover as easily.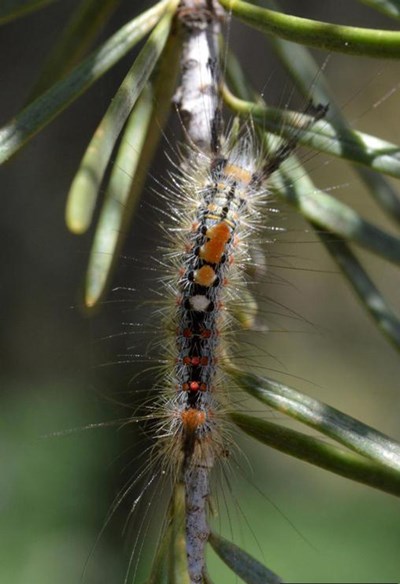 Can Tussock Moths Affect People?
Tussock moths can harm people. If you see a tussock moth, it is important not to touch it. Some people are allergic to moths or other stages of the lifecycle. People are most likely to come into contact with the hairs on the caterpillars, which can cause irritation or an allergic reaction. Symptoms can include itching, rashes, watery eyes, runny nose, cough.

Less commonly, people experience shortness of breath, wheezing, and chest tightness. Hot weather and perspiration increase the severity of symptoms and individuals with a general history of allergies may be more susceptible to "tussockosis." If you experience any of these more severe symptoms, seek medical attention immediately.
Avoid Exposure to Tussock Moth Life Stages
If you see a tussock moth caterpillar, don't touch it or any other moth life stage (egg masses or cocoons).
Avoid skin exposure in areas where you see large numbers of caterpillars.
Do not handle or disturb leaf litter, bark, wood piles, or any other material that may contain spent cocoons or larval skins.
Wash exposed skin surfaces frequently (hands and face) with soap and water.
If you get caterpillar hairs on your skin, apply a piece of adhesive tape to the affected area. Pull the tape (and hairs) off immediately, then shower or bathe to remove any residual hairs.
Learn More
The parks work with entomologists from Region 5 of the U.S. Forest Service to monitor Douglas-fir tussock moth prevalence and will update this page as more information becomes available. The April 2020 Douglas-fir tussock moth leaflet includes more detailed information about the species, photos, and a list of references.
Last updated: October 16, 2023