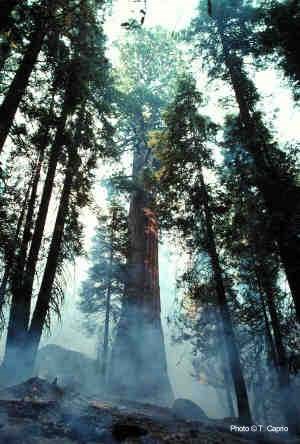 Forest Pattern, Surface Fire Regimes, and Climatic Change in the Sierra Nevada. California. Miller. C. 1998. Ph.D. dissertation, Colorado State University, Fort Collins, Colorado, USA.
A forest gap model was used to investigate how surface fires can create spatial pattern and to examine the consequences of that pattern on the spread of subsequent fires. These questions were examined in light of past fire suppression, current management options, and future climatic change. The model simulates forest characteristics, fuel loads and fire intensity within a forest stand with a spatial resolution of 0,02 ha.
The spatial heterogeneity of species composition increased under a simulated fire regime relative to simulations without fire. Although simulated surfaces altered the structure of the spatial heterogeneity of basal area within a forest stand, analysis of spatial autocorrelation did not detect a fire-generated pattern. Crown fires may exert a self-organizing influence on landscape pattern, but results from this model suggest that surface fires may not.
Simulations demonstrate that connectivity of burnable area was inversely related to fire frequency and generally increaded with elevation. Certain conditions of fuel moisture and fuel bed bulk density outweighed these relationships. Nonlinear thresholds in connectivity occurred across the elevation gradient as a result of gradients in fuel loads and fuel bed bulk density simulated by the model.
Potential effects of climate change on forest structure, composition and the fire regime were investigated. The effects of climate change on forest structure and composition were site-specific. Fire frequency responded directly to climate's influence on fuel moisture, while fire extent was affected by changes that occurred in either forest structure or species composition. The influence of species composition on fuel bed bulk density was particularly important. Future fires in the Sierra Nevada could be both more frequent and of greater spatial extent if climate model predictions prove true.
The effects of fire suppression and current management options for restoring pre-suppression forest conditions were evaluated. Simulated results suggest that forest structure, species composition, and spatial autocorrelation structure may be restored quickly after 100 years of fire suppression if disturbances are reintroduced that cause significant tree mortality.