Sequoia's Historic Park Entrance Sign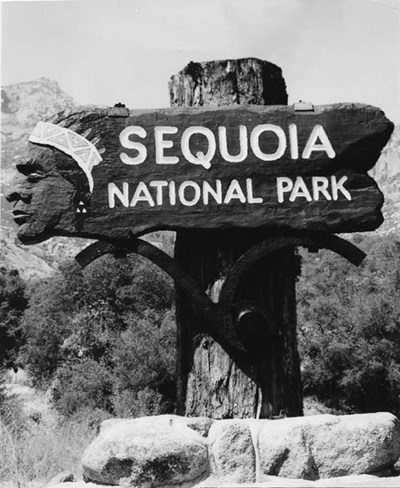 A Sign of History
History emanates from some objects. Sequoia National Park's entrance sign, with its powerful presence at the boundary, is one such antique. Its origins speak of varying aspects of our past. But is this sign, with its Indian head image, still appropriate for display today?

Carved more than 80 years ago, the mammoth 4-foot by 10-foot sign emerged from a slab of sequoia wood from a fallen tree that might have seen two thousand years come and go.

The carver, George Muno, served in the Civilian Conservation Corps, a remarkable program that put penniless young men to work here and in other parks during the Great Depression of the 1930s. Muno based the sign on the Native American profile on the old "buffalo" nickel, first minted in 1913. That profile was the work of James Fraser, the artist who in 1894 created "The End of the Trail." This famous, larger-than-life sculpture of a weary American Indian man on an exhausted horse has stood for decades in Visalia's Mooney Grove Park, just an hour's drive from Sequoia's famous entrance sign. (An additional coincidence of history: the name of one of the three Native Americans who posed for that profile was Big Tree.)

The idea of using such a profile on the park sign came from an earlier, smaller sign that also featured an American Indian man. Both signs were intended to honor Sequoyah, the Cherokee scholar whose invention of an alphabet for his language brought advances in literacy. Many believe that the giant sequoia trees were named for this historic figure.

Neither profile, however, bears any resemblance to Sequoyah or to the people of the California tribes who call these lands home and whose ancestors lived in these lands for thousands of years. The profile shows a stereotype of an American Indian from a tribe of the Great Plains.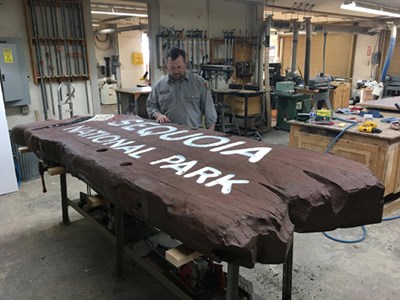 Since 1935, this sign has stood near the entrance of the nation's second-oldest national park. It evokes so many aspects of our history—from a famous American Indian to visual stereotyping of American Indians, from hard economic times to booms in tourism, from using sequoia wood to preserving sequoia trees, to name but a few. It reminds us of the challenges and benefits, cultures and crafts, people and resources that contribute to who we are as a nation.

National parks preserve a complex web of history, not all of it inspiring. Some symbols of our past may not interpret our nation's past in a sensitive and respectful way.

Because the National Park Service is tasked with preserving our nation's history, changes require careful consideration. And because these parks belong to everyone, getting public input is essential. Any discussions about the Sequoia historic entrance sign, and decisions about whether to continue its use, will be open to all.

How have recent cultural shifts in the United States influenced your opinion about preserving historic signs and monuments? What do you think about this sign now that you know more about its creation and history?
Last updated: September 9, 2020