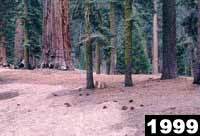 Giant Forest Restoration
Giant Forest, one of the largest sequoia groves, was saved from logging by the establishment of Sequoia National Park in 1890. However, national park status did not fully protect the big trees. The road that brought visitors to Giant Forest also brought camping, cabins, commercial development, and congestion. The impacts of this development, both to the giant sequoia ecosystem and to the quality of visitor experience, conflicted with the National Park Service mandate to conserve park resources and values and leave them unimpaired for the enjoyment of present and future generations.
An early park superintendent, Colonel John Roberts White, recognized these problems over 70 years ago and vigorously toiled to protect natural values. While largely unsuccessful in clearing structures from Giant Forest, he did prevent additional development and set the stage for the eventual restoration of Giant Forest.
Years of planning, design, and construction are now converging into the realization of Colonel White's vision. All commercial activity has been removed from Giant Forest. Overnight accommodations have been relocated outside the grove to Wuksachi Village. Demolition of 282 buildings and ecological restoration of 231 acres in Giant Forest is complete. Visitor facilities in Giant Forest have been converted from overnight to day-use. More...