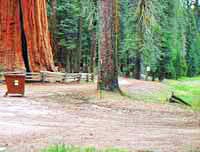 Development had extensive impacts on the overall giant sequoia ecosystem - soil, water, vegetation, animals, and processes that shaped the forest.
One such process is fire. It is a natural process that has shaped giant sequoia forests for millennia. Due to the presence of buildings, the park prevented fire from burning in and around the developed area. Yet without fire, giant sequoia seedlings fail to germinate. With no young sequoias to replace them, the towering sequoias in the Village area would be the last to stand there. Learn more about the Sequoia and Kings Canyon National Parks fire management program at the
SEKI Fire Cache
.
Modification of landforms
caused water runoff from rainstorms and snowmelt to concentrate and form gullies, increasing soil erosion. Landforms had been modified in several ways: (1) creating level pads for buildings and parking lots, (2) cutting into slopes and side-casting this material to construct road benches, and (3) filling over wetland and stream areas.