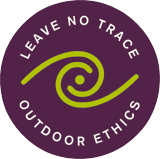 The Leave No Trace program is a national education program that promotes minimum impact practices for human-powered recreationists. The goal of the Leave No Trace program is to promote a consistent, unified message based around the seven Leave No Trace principles.

Learn more about how to protect our national parks by watching a short video about Leave No Trace.
The Leave No Trace Principles of outdoor ethics form the framework of Leave No Trace's message. Threre are seven core principles:
Plan Ahead and Prepare
Travel and Camp on Durable Surfaces
Dispose of Waste Properly
Leave What You Find
Minimize Campfire Impacts
Respect Wildlife
Be Considerate of Other Visitors
For more information on Leave No Trace principles, visit the LNT website. more...