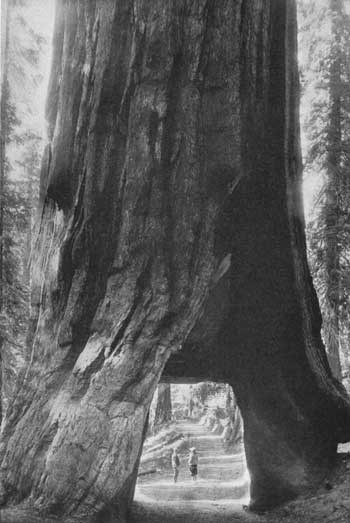 Where is the tree you can drive through?
This question is asked thousands of times each year by visitors to Sequoia and Kings Canyon National Parks. They are surprised to hear that the famous tunneled sequoia tree they seek was never in these parks, but rather 100 air-miles north in the Mariposa Grove of Yosemite National Park. And to complicate matters further, this famous sequoia, the Wawona Tree, fell over in early 1969.
The tunnel through Yosemite's famous Wawona Tree was cut in 1881 as a tourist attraction. It was the second standing sequoia to be tunneled (the first, a dead tree, still stands in the Tuolumne Grove in Yosemite). The Wawona Tree stood for 88 summers before it fell during the severe winter of 1968-69. Factors leading to its failure include heavy snow, wet soil, and, of course, the weakening effect of the tunnel. When it fell, the Wawona Tree was approximately 2,100 years old, 234 feet high (71.3 meters), and 26 feet in diameter at the base (7.9 meters). The famous tunnel was 7 feet wide, 9 feet high and 26 feet long at the base (2.1 meters by 2.7 meters by 7.9 meters).