Permits & Reservations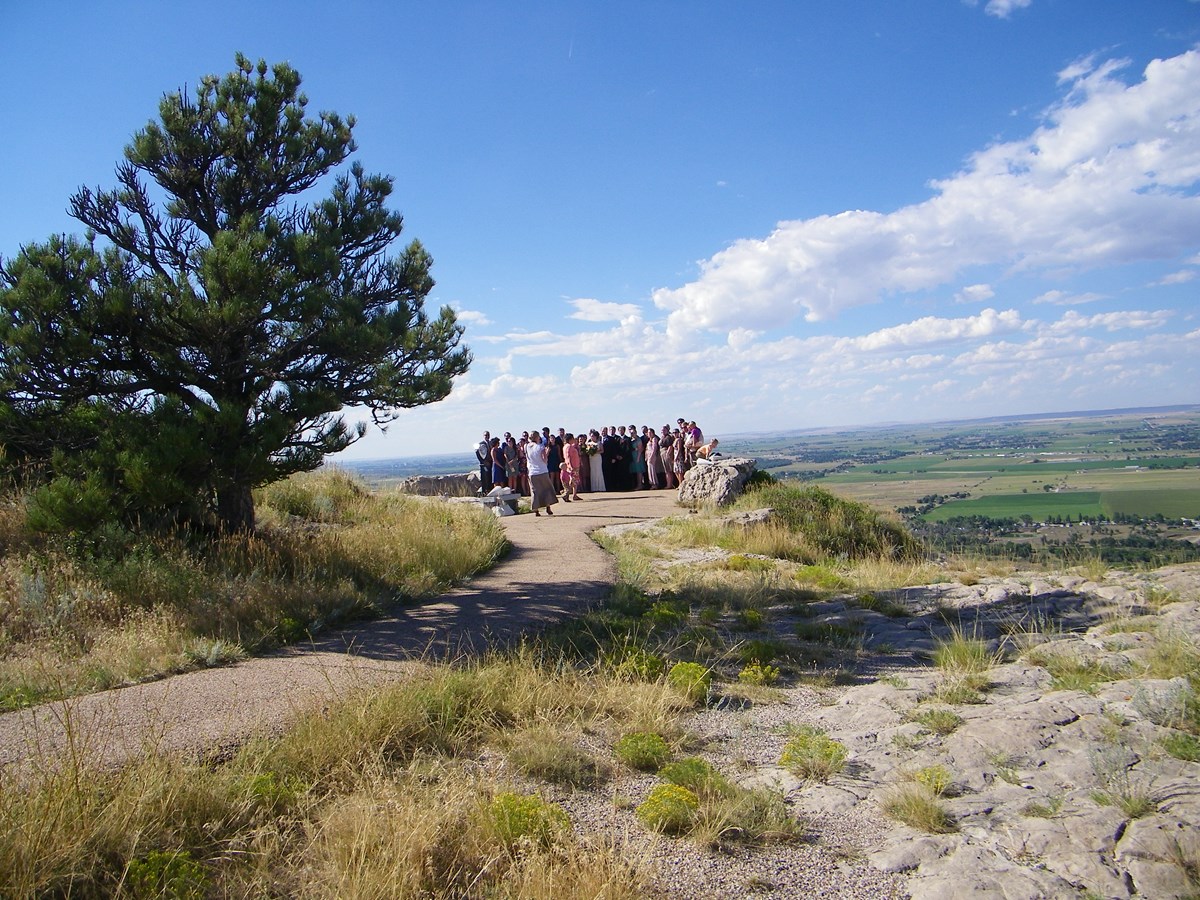 Whether you are planning a field trip for a school or a wedding, Scotts Bluff National Monument has much to offer. In order to provide the best experience possible it is necessary for you or your organization to complete an application for special use of the park. Schools may request a ranger talk, a living history program along with traveling to the top of the bluff by vehicle or foot. Scroll to the bottom of the page for Group Reservation Form. Scotts Bluff National Monument offers a number of locations for weddings, commitment ceremonies, charity races, concerts, and other events.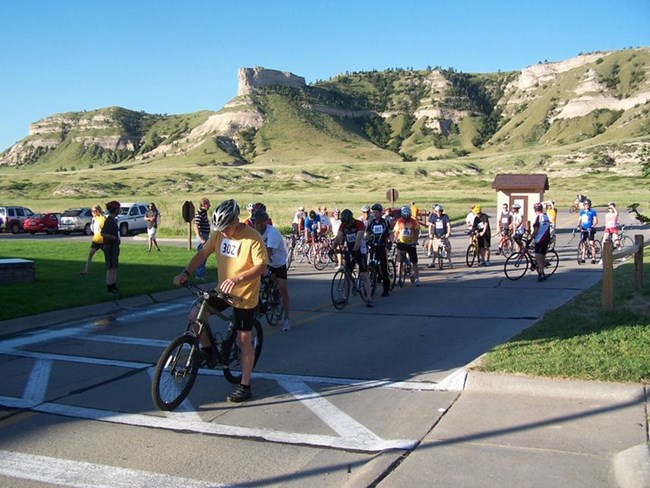 ---
The Special Use Permit
The permit system is intended to help assure, to the extent possible, that the activities that may be taking place on any given day will not conflict with each other or with general visitor activities.
Please note that all applications, unless determined to be a First Amendment activity, must be accompanied by a payment for initial processing. The application processing cost for special use applications is $50. These activities require some degree of management from the National Park Service if there is the potential for interference with visitor use, congestion of a highly visited area, or possible impact on park resources.
Payment of application cost may be in the form of check, money order or credit card.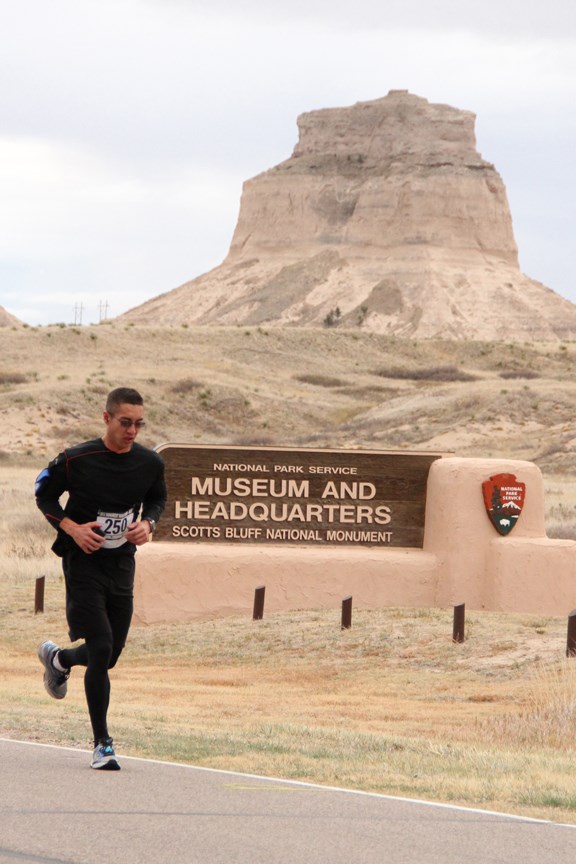 ---
Special Events
A special use permit is required for activities that provide a benefit to an individual, group, or organization rather than the public at large and that require some degree of management from the National Park Service to protect park resources and the public interest. Some examples of special events that require permits are:
sporting events
public spectator attractions
festivals
concerts
weddings
commitment ceremonies
ceremonies
cultural programs
---
First Amendment Activities
Freedom of speech, press, religion, and assembly are constitutional rights. However, the courts have recognized that activities associated with the exercise of these rights may be reasonably regulated to protect park resources. Some examples of special events that require permits are:
distribution and/or sale of printed matter
religious services
public demonstrations or assemblies, etc.
collecting signatures for petitions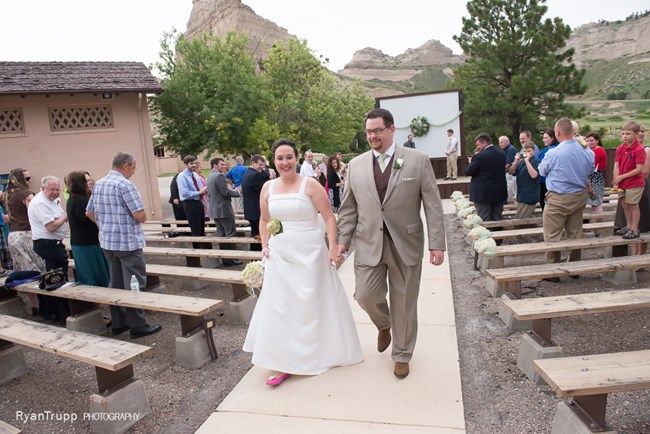 ---
Weddings
Scotts Bluff National Monument offers a number of locations that can be used for a wedding or commitment ceremony such as the park amphitheater or one of the scenic overlooks.
Wedding permits include specific conditions that protect the park's resources. Please read carefully to determine whether your ceremony will be possible at Scotts Bluff National Monument. We have worked to address the key points required for arranging a ceremony in the park. You will be required to read and sign the permit. Please read the Wedding Conditions to see if your ceremony plans meet these conditions.
Normal entrance fees apply to all vehicles associated with the ceremony. Carpooling is strongly encouraged as parking space is limited.
---
Special Use Permit Application
If you believe Scotts Bluff National Monument would be a good place for your special event please complete the following form and submit it by mail or in person at the park visitor center. When submitting your special use application include the $50 processing fee . If you have any questions that have not been answered on this page, please call the park at 308-436-9700 or contact us by e-mail.
Reservations

All groups need to make a reservation so that rangers are aware of any special needs. It also gives them a chance to let groups know if there are any issues that may impact their visit. Please call us at (308) 436-9700 or email us scbl_ranger_activities@nps.gov to make your reservation.

Please be prepared to provide us with the following information:
Group name
Group contact's name
contact phone number
contact email address
Date of propsed visit
Proposed arrival time
Proposed departure time
Number of adult visitors in your group
Number of students in your group
Method of transportation (autos, passenger van, motor coach, school bus)
What your group is interested in doing as part of their visit (tour visitor center, watch park movie, ranger talk, guided walk, using picnic area, hiking monument trails, driving the Summit Road).
Your group is scheduled to visit Scotts Bluff National Monument once you have received either telephone, or email confirmation. Please schedule any visit a minimum of one week in advance. We look forward to seeing your group at the monument!
Last updated: September 28, 2021