Nature & Science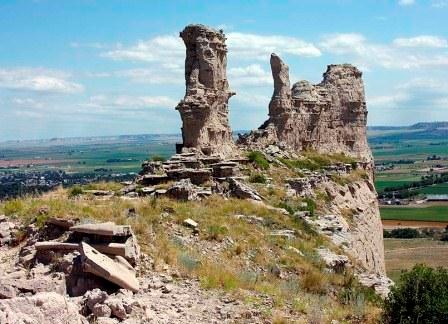 Scotts Bluff National Monument was established in 1919 by Presidential Proclamation primarily for its historical significance and unique geological features. While human history is the dominant theme today at Scotts Bluff, the area's natural history provides the setting in which a multitude of significant human events has transpired. Its principal natural value is the topographically diverse landscape in which the main geologic features of the historic landscape are still preserved.

The Monument lies within the western Great Plains in an area that was once almost continuous mixed and short grass prairie and that is now largely utilized for farming and ranching. The Monument lands encompass two large, cliff-rimmed, bluffs: Scotts Bluff and South Bluff. Most of the land within the boundary is in native mixed-grass prairie with some previously disturbed areas harboring a variety of non-native vegetation. There is also an area of mostly barren badlands at the northern base of Scotts Bluff and an area of riparian vegatation along the North Platte River.

While the region's landscape and that of the Monument are very different than they were 150 years ago, the Monument remains a home for many species of plants and animals. Read more about the plants, animals and geology of Scotts Bluff National Monument by using the links below.


Last updated: November 16, 2020