For Kids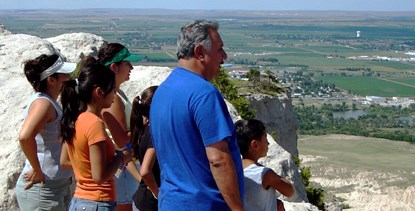 A truly extraordinary experience
Scotts Bluff National Monument is fun for both adults and children alike!
Kids enjoy hiking to the summit of the bluff, as well as interpretive ranger-led walks. Plus, weekends in the summer, kids can learn what it was like to be a kid on the Oregon Trail.
Wanted: Junior Rangers!
Scotts Bluff National Monument offers two Junior Ranger activity booklets specific to the park. One is designed for ages 3-7 and one for 8 and older. Learn the history of the area and have fun at the same time! Participants receive a certificate of completion and a Scotts Bluff National Monument Junior Ranger badge.
Kids may also request the statewide Exploring Nebraska's Treasures, the National Park Servicewide Junior Paleontologist Junior Ranger activity booklet or the Junior Ranger Night Explorer activity booklet.


Last updated: April 10, 2015