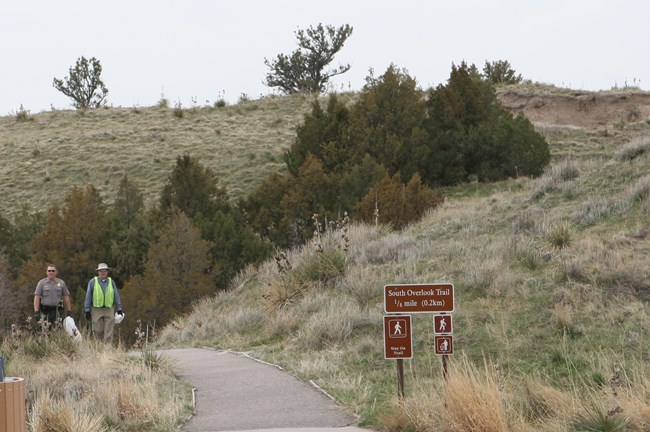 Supporting Scotts Bluff National Monument can be as simple as picking up a single piece of trash during your stay, or assisting park staff in yearlong environmental monitoring projects. Groups, associations, volunteers and everyday park visitors all have the potential to contribute in some way to the protection of this national treasure.
Volunteer
There are many ways you can volunteer at the park. Our volunteers assist visitors as shuttle drivers, living history characters, and ambassadors to the local community. Click the link to learn about more volunteer opportunities for you or your group.
Donate
Donations can be made directly to the park in person in cash, by check or credit card, or by mail.
Please make checks out to National Park Service (NPS)
Donations may be mailed to:
Scotts Bluff National Monument
PO Box 27
Gering, NE 69341
Supporting Organization
Organized in 1956, the Oregon Trail Museum Association (OTMA) is a non-profit cooperating association which operates the bookstore at Scotts Bluff National Monument. Each year the Association donates a major portion of their profits to the monument, assisting with interpreting the human and natural history of this area to visitors.
You can join our supporting organization, The Oregon Trail Museum Association, for a donation of $10 and then $5 to renew every year after. Members receive a 15% discount on all bookstore purchases. Click the link to learn more about The Oregon Trail Museum Association.