Plants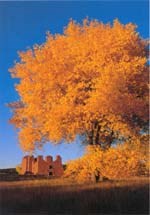 Like a dependable water source, plants are an important factor when people and animals choose a place to live. At Salinas Pueblo Missions there is an abundance of plant life. Perhaps you will see a yucca and if you stand and study this plant you will begin to understand the uses and importance of such a plant. Whether the use is for medicinal purposes, or dietary purposes, this plant had and continues to have many functions.
Plants that bear fruits such as chokecherries, currants, and gooseberries are abundant in the area. They are an important food source to the many birds that visit or live in the area, and to many of the mammals. When corn or squash was low in cultivation, it is quite possible that the people that lived here 300-600 years ago utilized the fruit bearing plants. The fruits of these plants are still harvested by many people today.
Some of the plants at the sites of Abó and Quarai were planted in the early 1930s by the WPA, such as wild cherries, wild plums, cottonwood trees and Western Yellow Pines.
Probably the most notable plant is the Buffalo Gourd, a wild relative of the cultivated squash. Like the squash, the Buffalo Gourd grows on a vine with fruit the size of a tennis ball.


Last updated: April 2, 2020