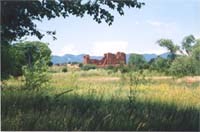 Salinas Pueblo Missions is situated in the foothills of the Manzano Mountains. The word Manzano is derived from the word "manzanas" which is Spanish for apples. It is said that the small Hispanic village and the surrounding mountains take their name for the ancient orchards here. The orchards were believed to have been planted by the Franciscan priests in the early 17th century, however, the trees have been dated no earlier than the 1800s.
Elevations in the Manzano Mountain range form 6,000 feet in the foothills to 10,098 feet on Manzano Peak. Vegetation consists of pinyon-juniper woodlands in the lower elevations to mixed conifer forests in the high country. The terrain, cut with canyons and rocky outcrops, is fairly steep and rugged.
The approximately 112,000 acres, comprising the Manzano Mountains are administered by the Mountainair Ranger District of the Cibola National Forest. The Manzanos are a long, narrow range trending north and south. The area slopes gently up from the Estancia Valley in the east to about 8,000 feet elevation and then rises abruptly to the ridgeline. The west face drops sharply into the uplands of the Rio Grande Valley.