Salem's Historic Wharves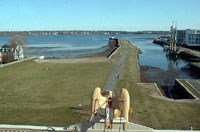 The three wharves that extend into Salem Harbor at Salem Maritime are the best examples of the over fifty wharves that once lined the harbor during the height of Salem's international trade.
Derby Wharf, the longest of the three wharves, was begun in 1762 by Richard Derby, Sr., one of Salem's wealthiest merchants. Over the years, as the Derby family's trade expanded, they extended the wharf, until in 1806 it reached its current half-mile length. Hatch's Wharf, the shortest wharf, was built in 1819, and Central Wharf was built in 1791 by Simon Forrester. Derby Wharf Light Station was built in 1871.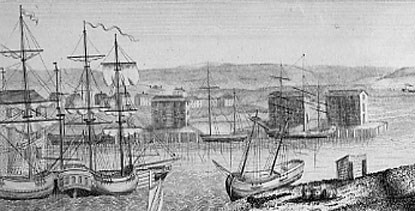 The wharves of Salem were covered with warehouses, some of which were two to three stories high. Derby Wharf, at one point, had almost twenty structures on it, from three story warehouses to smaller sheds to Elias Hasket Derby's counting house-the headquarters of his international trading empire. Sailing vessels were at times constructed on the wharves, and launched sideways into the harbor.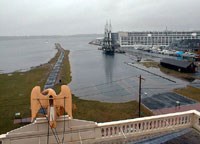 In Salem Harbor, there is about an eleven foot difference between high tide and low tide. Sometimes bad weather will push the water in the harbor towards land. This is called a storm surge. When a storm surge happens at the same time as a high tide, water can come up over the wharves. This is one reason why warehouses were often several stories high.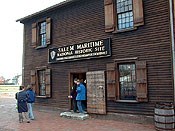 Waite and Peirce, formerly the Orientation Center, which is at the head of Central Wharf, is a warehouse built around 1770. Inside, you can see the huge beams that support the second floor and were designed to hold the weight of tons of exotic goods like tea, spices, and silk. The building now houses a store selling authentic and exotic goods to benefit Salem Maritime.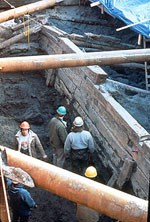 In 1992, an archeological dig revealed how some of Salem's wharves were constructed. The 1762 section of Derby Wharf was built by laying timbers on the mud flats at low tide, and then filling between the timber walls with dirt and stones. Later in the 19th century, the wharf was encased with large granite blocks.
Visiting the wharves at Salem Maritime
The wharves are open all the time. Waysides along Derby Street and the length of Derby Wharf explain some of the history of the wharves, the harbor, and the international trade of the city.
Visitors should exercise caution while visiting the wharves after dark or during poor weather. Erosion has led to an uneven walking surface, holes, and other tripping hazards. Also, the wind can be much stronger at the end of Derby Wharf than it is near the shore.
Click here for more information about our film and guided tours.
For More Information
On Derby Wharf Light Station
On International Trade in Salem
On Friendship of Salem
Last updated: January 17, 2018