Archaeology of the Derby Counting House

Derby Wharf has not always been as serene and park-like as it is today. For the first 150 years of its existence, it was filled with warehouses large and small, containing stored cargo, workshops, and merchants' offices. However, as Salem's international trade and maritime fleet declined in the late 19th and early 20th centuries, the buildings were torn down or succumbed to weather since they were not thought to be important enough to save. Today, we know that the buildings associated with daily life -warehouses, bake houses, dairy houses, slave quarters, and especially privies (outdoor bathrooms), to name a few - can greatly enrich our understanding of how people in the past lived. So, in order to understand more about our national parks, the National Park Service uses historical archaeology to excavate and study the remains of vanished structures. This project is about what was once one of the most important buildings on Derby Wharf. The "Upper Store House," built in 1765, which between the late 1780s and 1799 housed the "counting house" or business office of Elias Hasket Derby.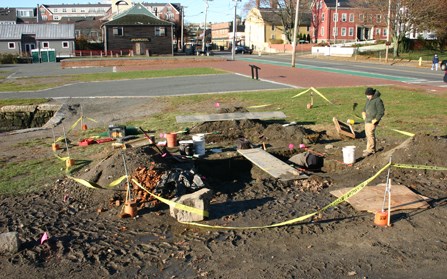 Your fee dollars at work!
This project was funded by recreational fees collected at national parks nationwide. Thank you for your help in making your national parks a better place for all. For more information about the recreational fee program, and the support it has provided to your national parks, visit https://www.nps.gov/pub_aff/feedemo/
Last updated: February 26, 2015