Collections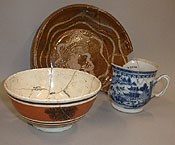 Salem Maritime NHS collects objects that relate to the buildings at Salem Maritime and the people who lived or worked in them, as well as books and manuscripts related to the history of Salem's maritime trade.
Historical objects often have wonderful stories to tell, and in our collection spotlight we focus on some of the objects from our museum collection.
Follow the links above and to the left to explore more of Salem Maritime's collections.
Last updated: February 26, 2015