Education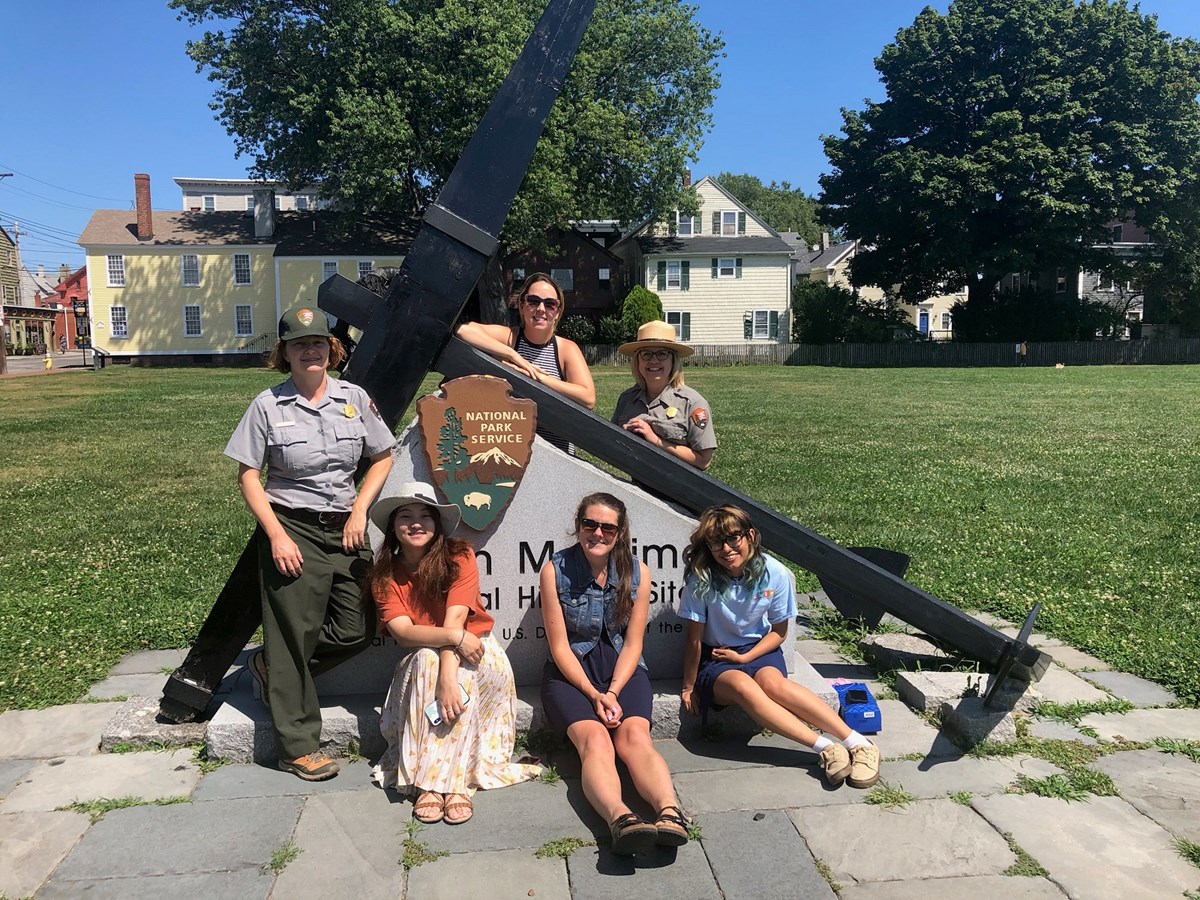 As we continue to adapt to changing conditions and respond to the COVID-19 pandemic, in-person services remain limited. The National Park Service is not currently offering any educational programs on site. The ParkEd team is taking this moment to 1) reevaluate the programs we offer, 2) recommit to our values (described below), and 3) work with local teachers and subject matter experts to co-create new educational programs that engage diverse audiences and emphasize social justice. If you are a local educator and are interested in learning more or collaborating with ParkEd, please email us.
What is ParkEd?
ParkEd refers to the team of people at Salem Maritime who provide programs that aim to meet the educational and learning goals of schools, organizations, and the community. ParkEd is made up of the park's education specialist, an education park ranger, interns, volunteers, and interpretive park rangers.
How can ParkEd support you?
ParkEd aims to facilitate meaningful, memorable experiences with diverse audiences so that they can create their own connections (onsite and virtually) with park resources.
ParkEd aims to meet the mission of the National Park Serivice and encourage shared stewardship through relevance, engagement, and broad collaboration.
ParkEd aims to support global citizens to build a just society through engagement with natural and cultural heritage.
Explore the features below to learn about the offerings of ParkEd. Email us.
ParkEd Impact Statement
ParkEd developed a statement to focus the desired impact of our programs. This impact statement is a long-term aspiration that shapes our work in educating children and adults of all ages. It is high-level and inspirational, not restrictive or time-specific.
Engage audiences with the multi-faceted stories of Salem and maritime New England and their place in a global society, and inspire audiences to interact with their communities and the world.
ParkEd Team Values
ParkEd holds the following values for learning about, reflecting on, and interpreting the Park's themes.
Conscientious – We will treat the content, interpretation, and interactions with humility and awareness of the historical narratives, historical people, our audience/community, and ourselves.
Connected – We will illuminate the relationships between historical people, stories, and systems; the past and present, between historic and contemporary Salem and the world. We particularly want to highlight the stories of previously marginalized historical populations – including free and enslaved people of African descent, women, immigrants, and indigenous people. We will endeavor to build collaborations with local communities to create a welcoming and inclusive park of all of Salem's/Essex County's residents.
Competent – We will support ongoing research, training, interpretation, and collaborations with sound historical research skills, application of appropriate interpretive tools, and self-awareness, on institutional and individual levels.
Confident – We will create an inspired, passionate, and supported environment for staff, visitors, and community.
Sources:
Lent, L. 2014. Vision paper: 21st century National Park Service interpretive skills.
National Park Service. 2014. Achieving relevance in our second century.
National Park Service Centennial Act, Public Law 114–289 (2016).
Salem Maritime and Saugus Iron Works National Historic Site. 2020. Visitor Experience Plan.
Washburn, Julia. 2020. Dynamic learning landscapes: The evolution of education in our national parks.
Last updated: May 5, 2021