Your Safety
We want you to have a safe, enjoyable visit! We strive to keep the site as accessible as possible for you without destroying its unique historical fabric. However, certain basic precautions should be taken to ensure your safety and the protection of the site:
Remember that the fortifications were built for soldiers hundreds of years ago, so please watch your step.

Watch for low passage ways and uneven, steep and slippery surfaces. Use care on the stairs and ramps.

Good sturdy footwear will make your visit safer and more pleasant.

All minors must be accompanied by an adult when visiting the site. Please keep a close eye on your children as you walk around, they can get lost and easily disoriented by the ramparts, stairways, and tunnels of the fortifications.
The tropical sun is strong and we recommend that you wear a hat and sunscreen during your stay in Old San Juan.
Please do not sit, stand, or climb on any of the historical structures. This includes the walls and the embrasures on the walls. Parts of the fortifications are over 400 years old and have survived hurricanes, earthquakes and bombardments. They can be fragile and may easily give way. Help us protect these walls while protecting yourself!
To prevent falls and injuries, stay away from the edges and top of the steep walls and off of the cannons, their carriages and cannon ball pyramids.
Do not feed, touch or approach any of the urban wildlife that inhabits the fortifications, such as iguanas, hermit crabs, cats, birds, among others.
If you observe any of this prohibited or potentially dangerous conduct, please report to our personnel on site.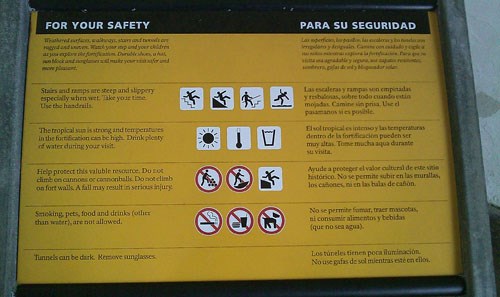 Last updated: January 22, 2020