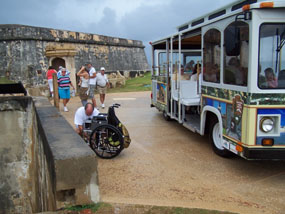 The historic structures at San Juan National Historic Site were builtover 400 years ago for warfare and the protection of the city of
San Juan
.The surfaces are uneven and rugged, the ramps and staircases are steep and sometimes narrow.
There are also tunnels and narrow passages that may be dimly lit.At the park the historic setting is preserved so the visitor can experience the fortifications as they in their historical context. Accessibility is provided in key areas of both Castillo San Cristóbal and the Castillo San Felipe del Morro to ensure a relevant and enjoyable visit to those visitors needing special accommodations.
Accessible transportation between Castillo San Cristóbal and Castillo San Felipe del Morro is available through a trolley service which is jointly operated with the municipality between the two locations.The trolleys run every 20-30 minutes and can be boarded at the entrance stations of both fortifications.