San Juan National Historic Site: A Living Classroom
¡Adéntrate al pasado y ten la experiencia de explorar las maravillas del único parque del National Park Service en Puerto Rico! 
Le damos la bienvenida a maestros, profesores y estudiantes a que visiten y utilicen el Sitio Histórico Nacional de San Juan como un salón de clases viviente. 
Aquí aprenderán sobre cómo este Patrimonio de la Humanidad jugó un rol importante en el desarrollo de la historia de Puerto Rico, al igual que la relevancia cultural e histórica que aún posee hoy. 
A 
continuación le compartimos algunas actualizaciones relacionadas a Visita
s 
Educativa
s a los Castillos San Cristóbal y San Felipe del Morro
:
Durante el semestre agosto a diciembre 2018 NO se requerirá reservación a las
 I
nstituciones 
E
ducativas.
Éstas serán atendidas por orden de llegada a las facilidades. 
Sin embargo, las mismas deberán llevar a cabo alguna de las siguientes gestiones si:
La institución viene con grupos de 11mo, 12mo, universitarios o homeschool, y que por ende necesiten la Exención de Pago para entrar sin costo a las facilidades.

 Entre 

aquí

 para accesar el Formulario de Solicitud.

La institución viene con más de 100 estudiantes, las cuales deberán notificarlo a nuestro personal previo a su visita de vuelta a saju_education@nps.gov o llamando al 787-729-6777 ext. 231. 
Una vez finalizado este semestre, estaremos actualizando y ampliando nuestra plataforma educativa, ¡así que pendiente! 
Ante cualquier otra pregunta o comentario, no dude en comunicarse 
 al 787-729-6777 ext. 231
, 
o 
saju_education@nps.gov
.
¡Le esperamos!
Greetings! 
Thank you for contacting the San Juan National Historic Site! 
Please read the following for related updates regarding Educational Visits to Castillo San Cristóbal and Castillo San Felipe del Morro: 
During the semester from August to December 2018 NO reservations will be required for educational institutions. They will be attended on a first come, first served basis. However, they must be aware of the following if:  
The institution arrives with 11th, 12th, university or homeschool students; they would need an Educational Fee Waiver to enter free of charge to the facilities. Click here to access the Application Form. 
The institution arrives with more than 100 students; this must be notified to park personnel before your visit via saju_education@nps.gov or by calling 787-729-6777 ext. 231.
Starting next semester we will be updating our educational platform, so stay tuned!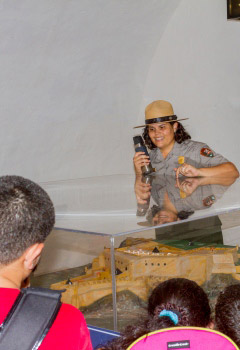 Last updated: September 21, 2018