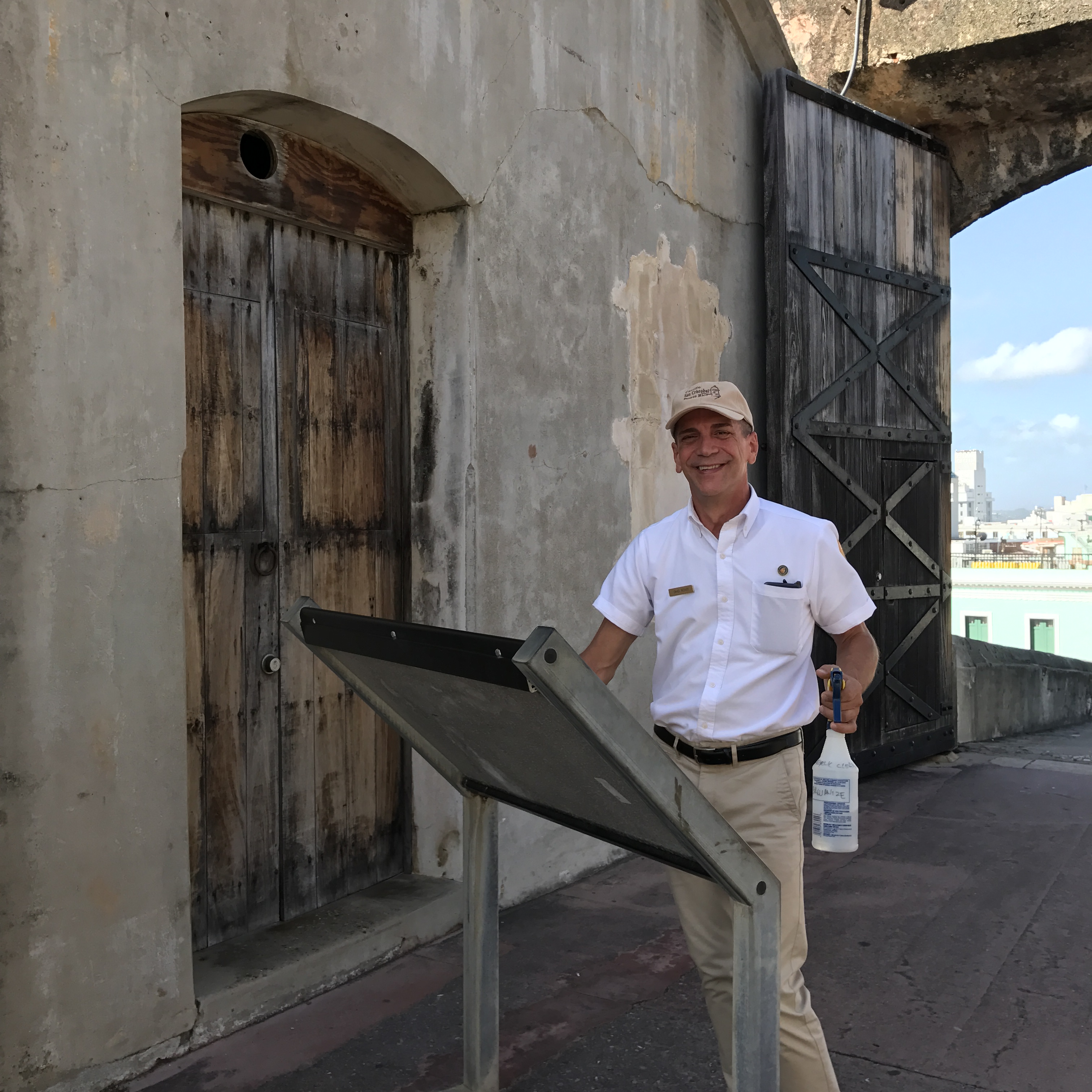 Be a volunteer at San Juan National Historic Site!

Volunteers offer their valuable skills, time and energy to help the National Park Service accomplish its mission of preserving and protecting natural, historical and cultural resources for this and future generation. They come from all walks of life; students, professionals and retirees all form part of the National Park Service's "Volunteer In Parks (or VIP) Program."
This is YOUR invitation to make a difference and share your time, expertise and love for San Juan National Historic Site.

If you wish to become a volunteer please contact Carlos Almodóvar, Volunteer Coordinator, at 787-729-6777 ext. 252 or Carlos_Almodovar@nps.gov
San Juan National Historic Site is comprised of Castillo San Felipe del Morro, Castillo San Cristóbal, Fortín San Juan de la Cruz (El Cañuelo), the San Juan Gate, most of the walls that surround the Old San Juan area and El Morro Trail. This is the only site administered by US National Park Service in Puerto Rico.
Volunteer positions available:
Administrative Assistant (Administration Division)

Volunteer will serve as receptionist, assist with the Time and Attendance, serve as the receiving officer, type memos, reports in draft form, organize and maintain office files, prepare outgoing mail, operate a variety of office machines such as faxes, typewriters, calculators, computers, postage meter machine, copiers, prepare minor reports, order office supplies, receive lost and found items, serve as backup within the administrative office.
Park Guide

Volunteer will present provided orientation talks and other programs based on park themes and resources. Volunteer Park Guide will provide timely, accurate information to park visitors and park staff. Volunteer will rove the park on foot to make positive visitor contacts.
Educational Assistant

Volunteer will assist with the park education program including designing program outlines, making program props, scheduling groups for programs, further developing curriculum for K-12 grade levels to match local state standards and division goals
Graphic Artists

Volunteer will provide artwork (line drawings or other) graphics, or computer design and layout for various park publications, exhibits, waysides, or webpages.
Translators

Volunteer will translate park publications and interpretive information, as well as exhibits, waysides and webpage.
Writers

Volunteer will perform research and provide written work suitable for park publications and interpretive information to the public, as well as for exhibits, waysides, or webpage.
Exhibit Maintenance

Volunteer will clean replicas in exhibits. Cleaning will take place whenever possible within public view in order to answer general questions from the public about work being performed, article being cleaned, or other questions as appropriate.
Library Technician

Volunteer will help with the park's library collection inventory, provide basic care for the library collection, keep record of loaned materials and locate library materials for researchers. Volunteer will also help with other activities such as answering the phones, typing, sending faxes, etc.
Data base Management

Volunteer will organize and maintain a digital database of photos and files for Division of Interpretation materials.
Custodial Worker

Volunteer will sweep and mop floors and remove oil, grease and other spilled liquids, move light boxes or other obstacles in order to clean up the area, and pick up trash and other materials. Volunteer will also remove trash and scrap from designated areas to the central pick up point as well as wipe benches and office furniture.
Laborer

Volunteer will pick up trash and garbage from grounds, building or residences, rake leaves, pull weeds or water grass from different areas of the fortifications. Volunteer may also perform other jobs, such as helping repair fences, mixing concrete, and other minor jobs assigned to assist journeymen or semi-skilled masons, woodcrafter or electrician.
Maintenance Worker

Volunteer will perform routine plumbing, repairs and/or replaces drains, unclogged drains, faucets, washers, sink handles and any other minor plumbing job. Volunteer may also performs minor paint jobs such as scraping, sanding, cleaning and painting, using brushes, rollers and spray guns.

If you would like to apply, please fill out the Volunteer Application Form or if you need more information, please contact Carlos Almodóvar, Volunteers-In-Park Program Coordinator, at 787-729-6777 ext. 252 or Carlos_Almodovar@nps.gov
Thank you for your interest and support.