Safety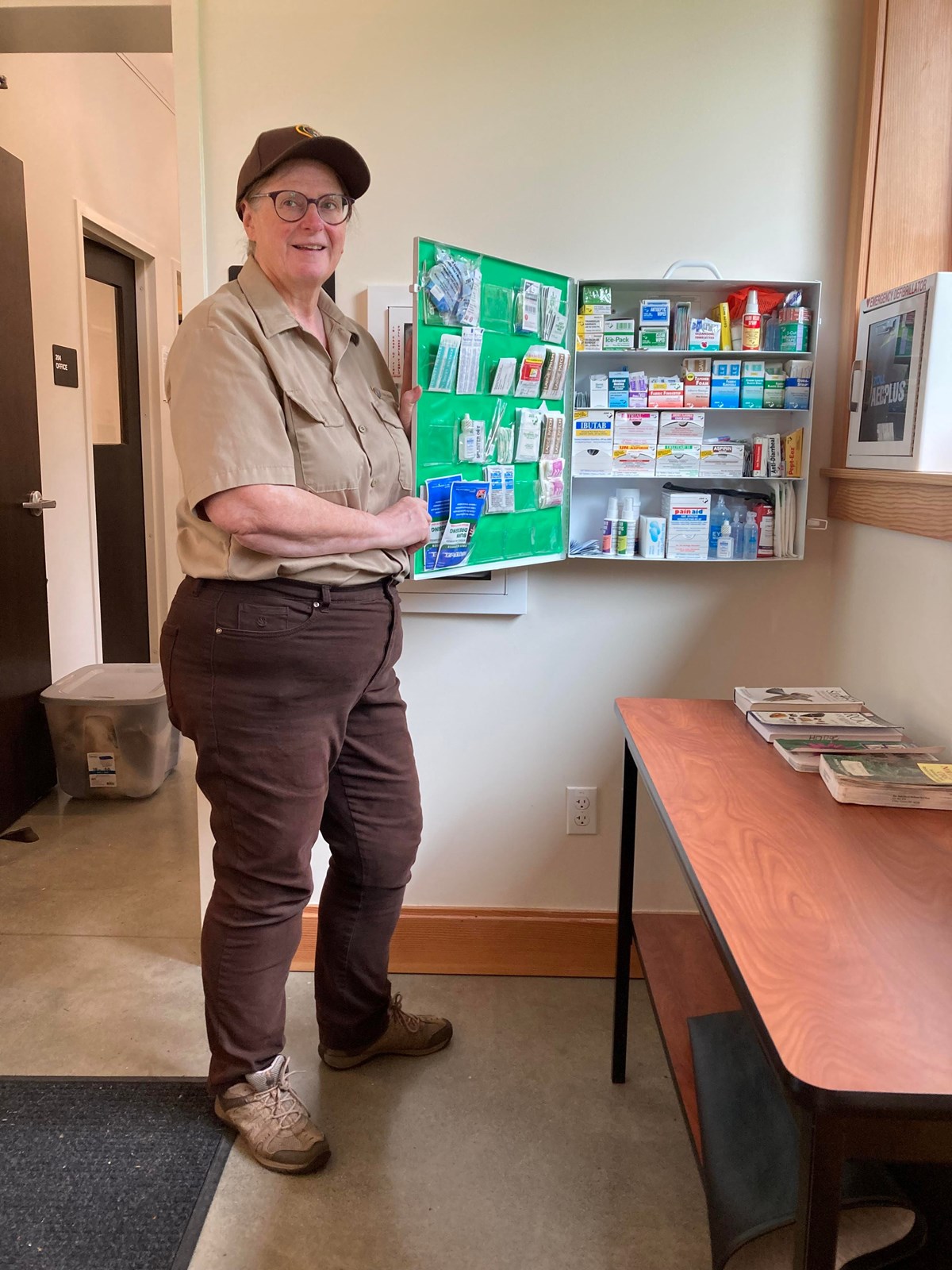 San Juan Island National Historical Park offers many opportunities for discovery. To help ensure a safe, enjoyable visit, pay attention and follow a few important guidelines as you explore the park.
In case of emergency
Call 911 or 360-378-4141 from a cell phone
At all parks and recreation areas

Follow these actions when visiting a park, beach, or recreational facility:

Visit parks that are close to your home
Traveling long distances to visit a park may contribute to the spread of COVID-19, as:
Travel may require you to stop along the way or be in close contact with others with whom you may not otherwise have contact.
Travel may also expose you to surfaces contaminated with SARS-CoV-2, the virus that causes COVID-19.
Check with the park or recreation area in advance to prepare safely
National, State, or local parks: the federal or State and local authorities will decide whether parks and other recreational facilities will open. Check with the park in advance to be sure you know which areas or services are open, such as visitors' centers, bathroom facilities, and concessions, and bring what you need with you, such as hand sanitizer or other supplies to maintain proper hygiene.

Beaches or other swimming areas: State and local authorities will decide whether swim areas at oceans, lakes, and other natural bodies of water will be open. Please check with individual beaches for specific details, including whether the water is open for swimming.
Use social distancing and avoid crowded parks
Stay at least 6 feet from people you don't live with ("social distancing") at all times. This might make some open areas, trails, and paths better to use than others. Do not go into a crowded area.

Avoid gathering with people you don't live with.

Avoid crowded parks. Do not visit parks where you cannot stay at least 6 feet away from people you don't live with.
Wear a mask
Wear a mask as feasible. Masks are most essential in times when social distancing is difficult, including when hiking on trails that may be popular or crowded.

Masks should not be placed on:

Children under age 2

Anyone who has trouble breathing

Anyone who is unconscious, can't move, or is otherwise unable to remove the mask without assistance

Masks should not be worn when engaging in activities where the mask might become wet, like when swimming.
Clean hands often
Wash hands often with soap and water for at least 20 seconds, especially after going to the bathroom, before eating, and after blowing your nose, coughing, or sneezing.

Adults and older children who can safely use hand sanitizer: Use hand sanitizer that contains at least 60% alcohol and rub hands together until dry, if soap and water are not readily available.
Stay home if you are sick
Do not visit parks if you are sick with, tested positive for COVID-19, or were recently (within 14 days) exposed to COVID-19.

If you are sick with or tested positive for COVID-19, were recently exposed (within 14 days) to someone with COVID-19, or just don't feel well, do not visit public areas including parks or recreational facilities.
Planning Ahead
Check the weather and dress appropriately for the conditions. Rain gear is helpful during the winter rainy season, and sun protection (including sunscreen, hat, and sunglasses) and drinking water is a must drung the hot summer months.

Trails and walkways can get slippery when wet or icy, so please take extra caution if you're visiting during inclement weather.

Dogs must be leashed at all times, and their waste must be collected and disposed of properly. No pets are allowed in national park facilities with the exception of service animals.

Drive safely and wear your seatbelt at all times. The speed limit is 25 mph in the park unless otherwise noted. It is easy to get distracted by scenery—pay attention. Hitting a deer is not a remote possibility in the park and the island at large. Be especially alert at night and early in the morning. The deer graze on the dewy grasses along the road. If one crosses in front of you it is very likely another will follow so slow way down!

Do not drink and drive.

If you're bicycling with a friend or group, ride single file. If you're a motorist and encounter cyclists, slow down and give way to oncoming traffic before passing; and give the cyclists a wide berth.

Please use the bicycle racks available at both park units.

Two- and three-wheeled moped rentals are available on the island. These machines top out at 35 mph, so bear to the right while on the road. Do not use park parking areas as training grounds for unlicensed drivers (specifically minors). Park staff will report you to the rental operator, which will cost you your deposit.

When in doubt, ask a ranger first!
Remember that your actions can make the difference between a happy memory and an unpleasant experience.
Trail Safety
Carry water (at least 20 ounces, more on warm days).

Wear sturdy hiking shoes and bring a hat (sun or stocking). Layer for variable weather.

Follow park trails and use a map or GPS unit. Be advised: Mobile telephone range is irregular on the island with the American Camp prairie, Jakle's Lagoon/Mt. Finlayson, Mitchell Hill and Young Hill trail networks one and half bars or less. You may encounter a stronger signal at American Camp, but the chances are good that it will involve a roaming charge from Canada.

Do not modify or build new cairns or wood structures. You could send someone in the wrong direction.

Mountain biking, horseback riding and hiking are all welcome on specified trails in the Mitchell Hill trail network at English Camp. However building ramps and banked turns for extreme cycling is forbidden. Cyclists, hikers and horseback riders are urged to use caution and remain alert to the presence of other users. Remember, speed can kill on some trails.

Know the difficulty level of the trail and your physical abilities and limitations.

Be careful while walking near cliff ledges. Loose gravel and wet moss on rocks create dangerous footing, which can result in serious falls. The bluff trails at American Camp are notably slippery in rainy weather.

Be sure to tell someone your plans—when you are leaving, where you are going, and when you will return.
Remain in one place if you become separated from your group.
Tips to Recreate Responsibly in National Parks

Whether seeking wide-open spaces or exploring a historic urban neighborhood, remember to #RecreateResponsibly! We encourage you to follow the guidance from the Centers for Disease Control and Prevention (CDC) to reduce the spread of COVID-19 and follow Leave No Trace principles when you visit.
Know before you go. Visit NPS.gov/findapark for current park conditions and availability of restrooms and other facilities. Make a plan, follow the 10 Essentials, and if you are sick, stay home.

Keep it close. Follow the state, tribal, and local orders for where you're traveling. The NPS is working closely with public health professionals to make operational changes and adapt to changing conditions.

Keep your distance. Follow the CDC's social distancing guidelines and stay at least six feet away from other people. Wear a mask when you are near others—and always inside park buildings.

Know your limits. Consider postponing challenging hikes or trying new activities while first responders, parks, and communities continue to concentrate on responding to the pandemic.

Keep it with you. If you brought it, take it with you. Trash pickup and restroom facilities will continue to be limited in many park areas.

Keep it inclusive. Be an active part of making our nation's parks and public lands safe and welcoming for all identities and abilities.
THE TEN ESSENTIALS

The 10 Essentials are organized into ten categories, or systems1 :


NAVIGATION – Map, compass, and GPS system
Navigation systems are used when planning your route before your trip, and when you need help orienting yourself in your surroundings during your activity. Know how to use a topographical or relief map as well as your compass or GPS unit before going out.


SUN PROTECTION – Sunglasses, sunscreen, and hat
Sun protection is necessary to protect your skin and eyes against harsh UV rays that are responsible for sunburns and skin cancer. Consider using sunglasses, sunscreen, and hats. Sun-protection clothing such as pants and long sleeve shirts can also help minimize your exposure to the sun.


INSULATION – Jacket, hat, gloves, rain shell, and thermal underwear
Nature is unpredictable. Be prepared for sudden changes in weather conditions. Pack an extra layer of clothing that reflects the most extreme conditions you could encounter.


ILLUMINATION – Flashlight, lanterns, and headlamp
Lighting is indispensable in the outdoors where no conventional light sources can be found. Items include flashlights, lanterns, and headlamps. Headlamps are the preferred light source because they are hands-free. Be sure to pack extra batteries.


FIRST-AID SUPPLIES – First Aid Kit
Be prepared for emergencies by packing first-aid supplies with you. Start with a pre-made kit and modify it to fit your trip and your medical needs. Check the expiration date on all items and replace them as needed. Consider including an emergency guide in case you are faced with an unfamiliar medical emergency.


FIRE – Matches, lighter and fire starters
Fire can be an emergency signal and a heat source for cooking and staying warm. Pack matches (preferably waterproof) and fire starters - items that catch fire quickly and sustain a flame (e.g. lighter). Familiarize yourself with the fire use regulations of your park before heading out. Learn more about campfires.


REPAIR KIT AND TOOLS – Duct tape, knife, screwdriver, and scissors
Carry a basic repair kit with you to help repair equipment. The kit should include items such as duct tape, a knife, and scissors. Consider packing a multi-tool, a compact version of many tools that can include a knife, screwdriver, can opener, etc. Be sure to bring any tools specific to your trip and your activity.


NUTRITION - Food
You should always be prepared for the possibility of changes to your trip plans. Pack an extra day's supply of food, preferably no-cook items that have good nutritional value in order to keep your energy high. Salty and easy to digest snacks (e.g. trail mix, nuts, and granola bars) work well for outdoor activities.


HYDRATION – Water and water treatment supplies
Staying hydrated on your trip is of utmost importance! Physical activity increases your risk of dehydration (loss of water and salts from the body), which can lead to negative health consequences. If you're active outdoors (hiking, biking, running, swimming, etc.), especially in hot weather, you should drink water often and before you feel thirsty. Prepare your water before you need it and do not allow yourself to become dehydrated. Before heading out on your trip, be sure to identify if there are any bodies of water at your destination that you could collect water from and treat using your water treatment supplies. Learn more about purifying water.


EMERGENCY SHELTER – Tent, space blanket, tarp, and bivy
Shelter is one of the most important elements during an emergency survival situation. It can protect you from severe weather conditions and exposure to the elements. A tent, tarp, bivy sack, or emergency space blanket are all light weight options for emergency shelter.

Watch this video on the Ten Essentials!
Last updated: July 7, 2022