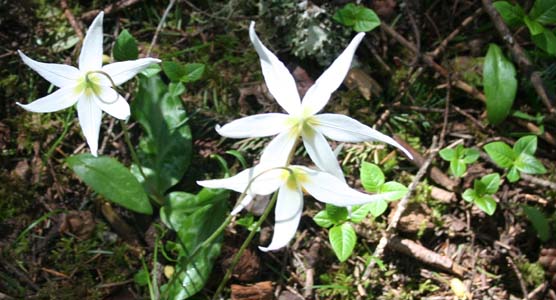 News Release Date:
May 2, 2011
Contact: Doug Halsey, (360) 378-2240, ext. 2228
Contact: M Karraker, (360) 378-2240. ext. 2229
Contact: Mike Vouri, (360) 378-2240, ext. 2227
Learn where the wildflowers are, peer over the shoulders of artists in action, play a game or catch a tune or two during San Juan Island National Historical Park's first Wildflower Festival, scheduled 10 a.m. to 3 p.m. on the American Camp parade ground.
The Festival is the culmination of Bloom Week, a weeklong celebration of spring for the whole family, scheduled May 3 – 8 at both English and American camps.
All events are free and open to the public. For a full slate of Bloom Week activities and special access information, please call the American Camp visitor center at (360) 378-2240, ext. 2228 or 2229.

The parade ground festival will also feature representatives of nature conservation organizations such as Lime Kiln Point State Park, the Bureau of Land Management (including the Keepers of the Patos Island Light), the San Juan Island Trails Committee, Wolf Hollow, Discover Your Northwest, the San Juan Island Garden Club, University of Washington Friday Harbor Laboratories, the Native Plant Society and the San Juan Conservation District.  
Music will be offered throughout the day. Musicians include Guthrie Burnett, the Pig War Band with Michael Cohen, the Prairie Blossom Band, guitarist Steve Dyer, John Hagey, Oliver Strasser, Robin Lohrey, Jesse Berube and Nickie Davis and David Wilcox and Johnny Pachivas.
Activities for children include birdhouse building, learning to create your own prairie ecosystem, junior ranger booklets with patches and badges, coloring books, basket weaving and much more.

But of course, nature willing, the biggest attractions to any wildflower festival are the wildflowers. In addition to park rangers, local botanists Fiona Norris, Louisa Nishitani and Kevin Sloan will be available all day to seek out and discuss wildflowers from South Beach to the parade ground, as well as the Jakle's Lagoon/Mt. Finlayson trail network. Naturalist Susan Vernon will be roving the prairie throughout the day and also will be pleased to answer questions and point out wildflower sites. Additionally, members of the Native Plant Society will give walks every 30 minutes throughout the day. 
Or visitors can do their own sleuthing with the aid of the park's new full-color wildflower brochure, featuring 28 plant varieties, available free of charge on the parade ground and in the American Camp visitor center. 
The park also has scheduled ranger guided walks throughout May on Fridays and Saturdays at both park units.  Highlight is a wildflower walk up Young Hill with San Juan Island botanist Louisa Nishitani at 10 a.m., Sunday May 8, meeting in the English Camp parking area. A bird walk with Barbara Jensen is scheduled at 8 a.m., also on Sunday May 8, meeting in the American Camp visitor center parking area.

For more information contact the American Camp visitor center at (360) 378-2240 ex 2228 or 2229, or e-mail us at e-mail us, e-mail us or marianne_karraker@nps.gov.