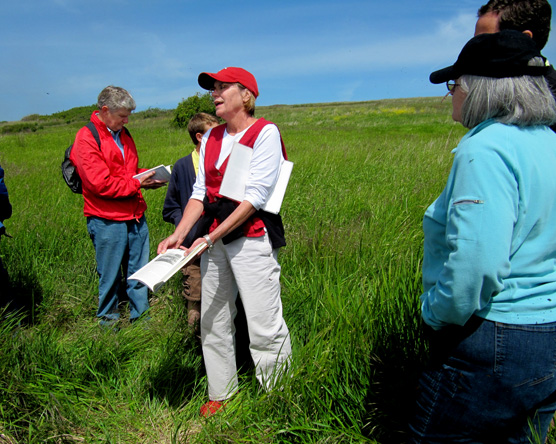 News Release Date:
May 26, 2013
Contact: Mike Vouri, (360) 378-2240, ext. 2227
Contact: Douglas Halsey, (360) 378-2240, ext. 2228
The University of Washington's Dr. Julie Stein will discuss archaeological investigations of ancient cultures at American Camp and San Juan Island in a guided walk scheduled 10 a.m., Saturday, June 1 at American Camp's South Beach site.

The walk is free and meets at Alaska Packer's Rock, located at the end of the gravel access road that parallels the beach. Attendees should plan to park in the main beach parking area at the end of Pickett's Lane and walk to the meeting point. As the walk will cover a portion of the prairie above the beach, walkers should wear sturdy, comfortable shoes.

Stein is the author of Exploring Coast Salish Prehistory: The Archaeology of the San Juan Islands (University of Washington Press, $18.95), which examines Coast Salish culture through excavations conducted by University of Washington crews at American and English camps going back to the early 1950s.

Her talk will focus on ancient life at South Beach, which included hunting and gathering, camping, several forms of fishing and cultivation of camas and other root foods. She also will discuss middens, or trash mounds, located in several areas along the beach that have remained remarkably in evidence over time.

The middens have revealed a picture of ancient life at American Camp going back as far as 8,000 years, according to Stein.
This activity is one of 13 Special and 10 Weekly programs presented by the park in 2013. For more information about park programming follow this link.