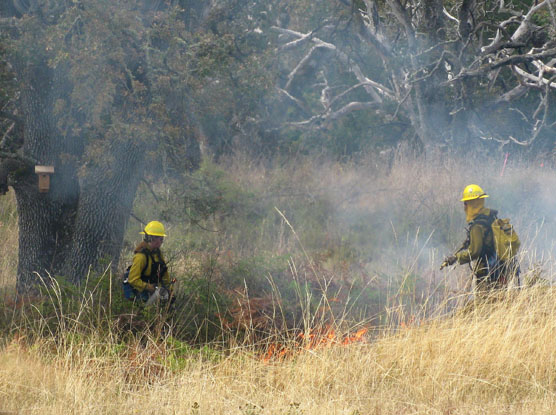 News Release Date:
September 9, 2009
Contact: Peter Dederich, (360) 378-2240
National Park Service fire crews conducted several small successful prescribed fires (click link for video) on the south slope of English Camp's Young Hill concluding the operation on Friday, September 18. The crews may return in the next two weeks to finish up the scheduled work.
The prescribed fire is part of a continuing program designed to help restore the area's Garry oak woodland by decreasing competition from species such as snowberries, found in abundance on the lower slopes of Young Hill, Dederich said. Previous prescribed burns have shown the importance of fire in the Garry oak ecosystem, as a bounty of seedling oaks have been found in following years.
"As always, safety factors, weather conditions, air quality and other environmental conditions are continually monitored as a part of any fire management operation, so islanders and visitors can be assured that caution and care will be paramount," Dederich said.
No road closures are anticipated, although a few trails in the immediate vicinity of some of the projects may be closed for a short time during the burns. Prescribed fire and caution signs will be posted as necessary along road ways and trails near the projects. For safety purposes, park visitors are urged not to stop along the roadway or enter the area while burning operations are being conducted.
In addition to the snowberry abatement, the crews from Olympic and North Cascades national parks also will burn slash piles they created last May while thinning Douglas-firs in an area uphill from the Royal Marine Cemetery. The crews also will revisit experimental burn plots on the hill's south slope, designed to determine the best methods of eliminating non-native cheat grass.
"Reducing the fuel levels will help protect park resources and nearby private property and aid in restoring desired conditions for native species such as the Garry Oak within the park," Dederich said.  
Information on the prescribed fires will be available from information stations at the burn site and at park headquarters in Friday Harbor. For information contact the park office at 360-378-2240.