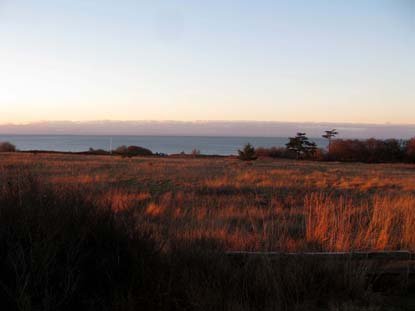 News Release Date:
January 12, 2013
Contact: Jerald Weaver, 360-378-2240, ext. 2224
Contact: Raena Parsons, 360-378-2240, ext. 2222
San Juan Islanders and northwest Washington citizens will have an opportunity to provide feedback on the future management of the American Camp prairie during an "alternatives" workshop scheduled 6 to 8 p.m., Tuesday January 15 at the Mullis Senior Center.


A similar workshop is scheduled Wednesday, January 16 from noon to 3 p.m. in the Anacortes Public Library.

The workshop is being held in conjunction with the 30-day Environmental Impact Statement (EIS) comment period for the park's Prairie Stewardship Plan, according to Lee Taylor, park superintendent. The meetings are intended to identify some of the challenges and opportunities based on existing conditions and public expectations, she said.

For accessibility and other information for both workshops contact the park at 360-378-2240, ext. 2224 or 2222.
"We're really encouraging individuals and organization to come and make their voices heard concerning this plan," Taylor said. "
The Prairie Stewardship Plan will be used to direct the management of the natural and cultural landscape at American Camp and at English Camp's Young Hill, Taylor said. It will likely rely on a suite of restoration / management tools that would facilitate the park's ability to effectively restore components of the rare island prairie ecosystem.