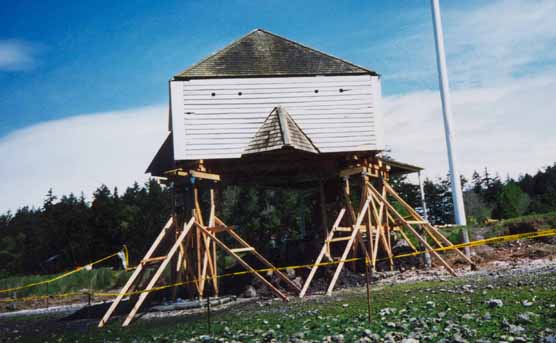 News Release Date:
June 10, 2012
Contact: Mike Vouri, (360) 378-2240, ext. 2227
Visitors and San Juan Islanders will have an opportunity this summer to see how log structures were built on the frontier when San Juan Island National Historical Park maintenance crews replace the lower story of the Royal Marine blockhouse at English Camp.
Historians believe this blockhouse is an exact copy of the fortification brought to San Juan Island from Fort Bellingham by Capt. George Pickett in 1859 when the U.S. Army garrison was shifted en masse during the Pig War crisis.Each has an upper story skewed 45-degree s to repel attacks from all directions.
However, the buildings at both camps were primarily used as guardhouses with the guards occupying the lower floor and the prisoners in narrow cells upstairs. The only difference is that the American Camp blockhouse was fashioned from milled lumber.
The upper-story logs (hidden by siding) are authentic, but because of tidal action, the log base was replaced wholly in 1970 and partially (the bottom 10 logs) in 1995. Maintenance crews will notch and assemble the logs for the new lower structure at the north end of the English Camp parade ground, according to Ken Arzarian, park maintenance foreman. The logs will then be coded and the structure disassembled. The upper story will be raised and supported by jacks and cribbing while the current lower story is removed log by log.
The new structure will then be re-erected literally from the ground up, utilizing the same concrete vault installed by the national park Service in 1970, Arzarian said.

Download a fact sheet to learn more about the blockhouse rehabilitation.