Park Plans to Control European Rabbits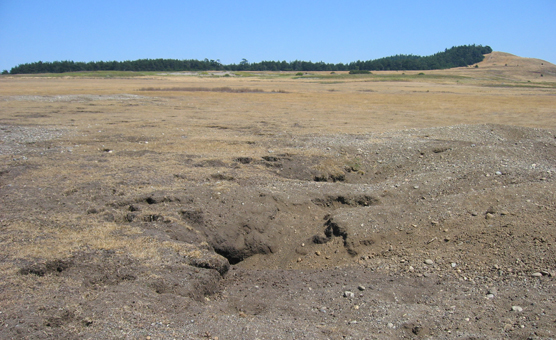 News Release Date:
July 9, 2010
Contact: Peter Dederich, (360) 378-2240, ext. 2223
Contact: Jerald Weaver, (360) 378-2240, ext. 2224
The National Park Service released on July 8, 2010 an environmental assessment (EA) for public comment that proposes to control the population of non-native European rabbits (Oryctolagus cuniculus) at San Juan Island National Historical Park's American Camp unit, announced Peter Dederich, park superintendent.
"The goal is to eliminate European rabbits from and prevent their recolonization in the park, which will allow us to protect important natural and cultural resources threatened by this non-native species," Dederich said. "It also will afford us the opportunity to mitigate past damage caused by the rabbits."
A formal 30-day public review and comment period for the EA is from July 8 to August 12, 2010. An open-house public meeting is scheduled from 1 to 3 p.m., Tuesday July 27 at the Mullis Senior Center in Friday Harbor.
More than 470 non-native rabbits inhabit approximately 150 acres of American Camp today—down from an estimated high of 50 rabbits per acre in the 1970s and approximately 23 rabbits per acre in 2005, Dederich said. The long-term effects have been devastating to American camp's unique prairielands.
"European rabbits exclude native wildlife and destroy wildlife habitat, damage native plant communities, and confound efforts to restore native species," Dederich said. "Through their burrowing, they also damage important cultural resources the park was established to protect. Most recently rabbits re-established warrens in the Redoubt at American Camp, one of the best remaining examples of Civil War-era earthen fortification in the United States."
Preliminary scoping comments for rabbit control were solicited from the public in February and March of 2009. Individuals or organizations wishing to provide written comments may submit them one of three ways: electronically on the Planning, Environment and Public Comment (PEPC) website, in person at an open-house meeting, or by mail to the address above no later than August 10, 2010.
Write Superintendent, San Juan Island NHP, PO Box 429, Friday Harbor, WA 98250.
To view and download the EA go to following link or visit PEPC directly at:https://parkplanning.nps.gov/parkHome.cfm?parkId=340.
Last updated: March 1, 2015