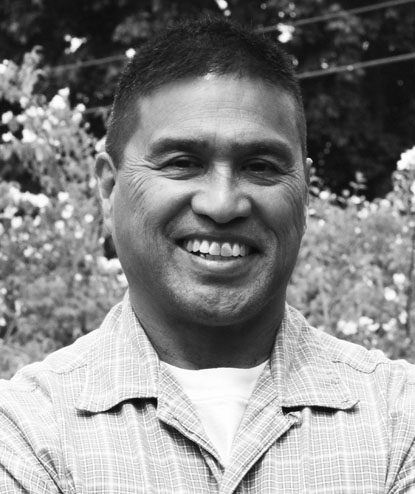 News Release Date:
September 2, 2012
Contact: Doug Halsey, 360-378-2240, ext. 2228
Northwest Indian College Vice President David Oreiro will discuss traditional American Indian conservation efforts and current tribal issues, state and nationwide, in a talk scheduled 7 p.m., Sunday September 9 at Skagit Valley College's Friday Harbor Campus.

The program is free. Call the park at (360) 378-2240, extensions 2233, 2227 or 2228 for accessibility and other program information.

Oreiro's talk is the seventh in a series of programs scheduled this summer and fall that explore First Nations/American Indian stewardship on the San Juan Island environment and throughout the Pacific Northwest, Canada and arctic regions. The next and last presenter in the series, co-sponsored by San Juan Island National Historical Park and the Madrona Institute, on Sunday September 23 will be Washington State conservationist Roylene Rides at the Door. Stay posted to the park's web and Facebook sites for more information.

Oreiro was born in 1951 on Bainbridge Island to a strawberry farmer and Lummi/Samish Indian woman. Both parents ran the family farm and worked at Bremerton Navy Yard as welders during and after WWII. Mom divorced and married a career Navy man and seeing America from San Diego, Bremerton, Hawaii, South Carolina, back to San Diego was the routine. Moving back to Washington State was the last pivotal relocation act as Bainbridge became home while attending Seattle Central Community College and the UW. Leaving Seattle and moving to the Lummi Reservation in 1973 and entering Western Washington State College ended with a BS in Environmental Planning and Policy. A 12 year career as the Lummi Nation Planning Director in charge of economic, community and land use planning led to the implementation of infrastructure plans, environmental policy, and land consolidation programs for the Lummi Nation.

Commercial fishing became a summer job and eventually a full time job when fishing was at its peak during the late 1980's and 90's for 10 years. With the decline in the fishing industry working for Northwest Indian College, NWIC, became a 23 year ongoing career and met a personal goal of working with Native Education youth and older individual programs. 

Attaining a Master's Degree at WWU complemented various work assignments at NWIC including Admissions Director, Recruiter, Registrar, Dean for Math and Science, Dean for Students, and eventually Vice-President for Campus Development. As V.P. current duties include coordinating the new Campus Master Plan for infrastructure, building and facility development. With the successful acquisition of 113 acres for the new campus seven new buildings have been completed with another to break ground within 30 days. Current community service work include Institutional Review Board Chair for research projects brought to the Lummi Nation, American Higher Education Consortium, and NWIC; Lummi Nation Housing Authority Chair; and WWU Huxley College Advisory Board Member.

For the last 12 years have an adjunct faculty position at WWU teaching the American Indian Experience course. Interests include participation in canoe racing that includes war canoes, outriggers, and marathon races such as the annual Ski to Sea event, paddling for the last 36 years has become a way of life. Hunting and Fishing are major pastimes with physical fitness a major priority for personal wellness objectives.