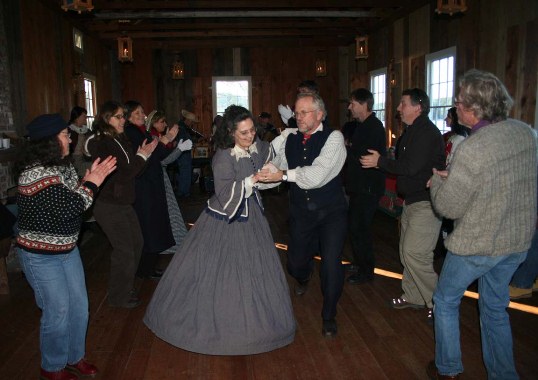 News Release Date:
November 25, 2012
Contact: Doug Halsey, 360-378-2240, ext. 2228
Contact: Mike Vouri, 360-378-2240, ext. 2227
Join San Juan Island National Historical Park staff and volunteers for the annual old-fashioned Holiday Social, tree-trimming and cookie potluck from noon to 3 p.m., Saturday, December 8, at English Camp.
Visitors are invited to bring holiday cookies and ornaments to hang on the tree, which will be erected in the old British Royal Marine Light Infantry barracks building -- just as it was likely done in the mid-1860s when the camp was in its heyday.
The park's 2012 Volunteer of the Year award and volunteer recognition is scheduled for 2 p.m.
Admission is free. The park will provide beverages, two crackling fires to warm the bones and entertainment to include staff and volunteer re-enactors in period uniforms and dress, storytelling and contra dancing with "Pig War." The San Juan Carolers also plan to drop by for a few songs. Volunteer awards also will be presented.
A motorized golf cart will be available in the English Camp parking area for persons with accessibility needs. For information, call 378-2240, ext. 2233, 2228 or 2227.