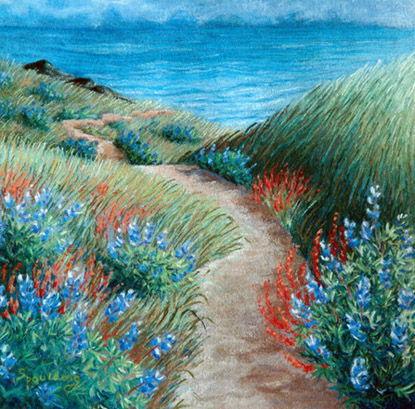 News Release Date:
March 7, 2013
Contact: Raena Parsons, 360-378-2240, ext. 2222
Grab your paints and brushes, allow your imagination to run wild, and submit any two- or three-dimensional piece of art by April 12 to the first Community Arts in the Park competition, sponsored by San Juan Island National Historical Park.
The competition, designed to celebrate ecology through art, is part of the park's annual Bloom Week spring celebration, which kicks off May 5 with a week of wildflower walks and other events and culminates in the Wildflower Festival May 11 on the American Camp parade ground.
"Through this program community members have the opportunity to raise awareness of San Juan Islands' natural diversity, said park superintendent Lee Taylor. "Works will inspire community connections to local ecology and outdoor stewardship."
Entries must be a creative rendering of a San Juan spring wildflower(s).All contest participants will receive a certificate of appreciation for their work as community artists and conservation leaders. A panel of local artists, botanists and naturalists award prizes to the top three entries with ribbons given to the top 10 entries, which will be displayed at the American Camp visitor center during Bloom Week. The first cut will be made based on original design and artistic composition.
A public vote will determine the top three winners. The winning works also will be photographed and posted on the park website.
Two-dimensional entries must be mounted on photo mounting board or foam core with several strips of Velcro tape (hook side) affixed to the back surface of the mounting board sufficient for hanging. No frames, glass or other covering will be accepted unless: pastel, charcoal, or other loose medium is used, entries must be protected with shrink wrap, wrapped in acetate, or sprayed with fixative before submission.

All participants must agree to the public display of their works at both a public location and online. All artwork must be picked up during the week of May 13-17. San Juan Island National Historical Park cannot assume responsibility for art not picked up during the assigned week.
Click here for a contest entry form.

Contact the park at (360) 378-2240, ext. 2222 or ext. 2233, with any questions regarding wildflower reference materials.