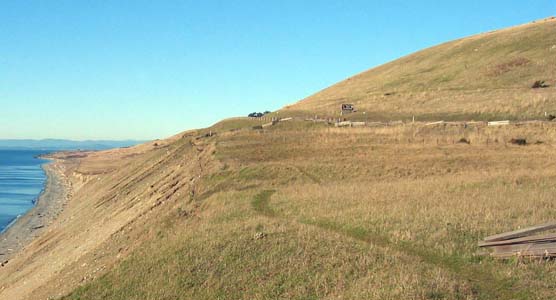 News Release Date:
September 3, 2010
Contact: Peter Dederich, (360) 378-2240
The Draft Environmental Impact Status (DEIS) for the proposed Cattle Point Road realignment at American Camp is scheduled to be released for public review and comment on Friday, September 3, announced Peter Dederich, San Juan Island National Historical park superintendent.

The document describes three alternatives for the proposed road re-alignment, located on the slopes of Mt. Finlayson about eight miles south of Friday Harbor. A draft preferred alternative is also indicated in the document. Cattle Point Road is the only road access to the east end of the Cattle Point peninsula, which is home to about 270 residents.

A 500-foot section of Cattle Point Road is threatened by coastal erosion. Coastal wind and wave action is eroding the base of the bluff that supports the road at a rate of about 0.86 feet per year; however, larger sections of the bluff have the potential to slide during a major storm. The proposed project would maintain vehicular access for residents and visitors without threat of road failure from coastal erosion.

The DEIS will be released jointly by the National Park Service (NPS), Federal Highways Administartion (FHWA) and U.S. Department of Transportation (USDOT) in compliance with the National Environmental Policy Act (NEPA). The process addresses the environmental consequences of the alternatives on a range of environmental resources including wildlife, cultural and historic resources, visual quality, visitor uses, and socioeconomics.
The agencies will accept comments from the public and agencies interested in the proposed project during a 60-day public review and comment period which begins September 3. A public open house will be scheduled during the comment period, the date and location to be announced separately. Watch for the announcement in the local newspaper and on the project websites.
Comments will be considered and evaluated by the agencies and incorporated into a Final EIS, which will be prepared prior to making a final decision on the project.
The Cattle Point Road Realignment DEIS is available to view or download at www.wfl.fhwa.dot.gov/projects/wa/cattlepoint/ or https://parkplanning.nps.gov/parkHome.cfm?parkID=340. A print copy or CD of the DEIS may be requested by e-mailing the Department of Transportation at cattlepointroad@dot.gov.