Cattle Point Road FEIS Released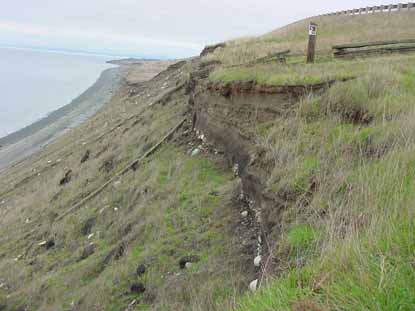 News Release Date:
October 10, 2012
Contact: Lee Taylor, 360-378-2240, ext. 2223
Contact: Jerald Weaver, 360-378-2240, ext. 2224
The Final Environmental Impact Statement (FEIS) for the Cattle Point Road Realignment Project has was published in the Federal Register today (Oct, 10, 2012), the National Park Service (NPS) and Federal Highways Administration (FHWA) announced.
The project involves realignment of a portion of the Cattle Point Road located in the San Juan Island National Historical Park about eight miles south of Friday Harbor. About 500 feet of roadway is threatened by coastal erosion, which is wearing-away the base of the bluff that supports the road. If erosion continues unabated the roadway will eventually fail, cutting-off the only road access to federal, state, and private property at the east end of the Cattle Point peninsula.
The FEIS describes three alternatives for road realignment and a no-action alternative which would continue current road management. The document also analyzes the potential environmental consequences of thealternatives on a range of resourcesand identifies appropriate measures to minimize or avoid environmental harm.
The preferred alternative is Alternative B: Hybrid Mid-Slope Realignment, which would realign about 4,950 feet of road to the north, about 300 feet away from its present location. This alternative is expected to protect the roadway from coastal erosion for about 105 years.
The lead agencies are not required to request public comments on a FEIS; however, in order to be fully informed of the interests of all parties, the FHWA is accepting comments pursuant to 40 CFR 1503.1(b). If any substantive comments are received prior to signing of the Record of Decision (ROD), FHWA will include responses to those comments in their ROD. Comments must be received by no later than November 9, 2012 for consideration in the ROD. Comments may be submitted by email to: e-mail us.The Record of Decision (ROD) is the final step in the NEPA process and may be issued no sooner than 30 days after publication of the FEIS in the Federal Register (40 CFR 1506.10(b)). The ROD identifies the selected alternative, presents the basis for the decision, identifies all the alternatives considered, and provides information on the adopted means to avoid, minimize and compensate for environmental impacts.
The FHWA and NPS will issue separate RODs. The agencies intend to issue the Record of Decision (ROD) for this project in 30 days, or as soon after that date as practicable.
Meanwhile, San Juan County is continuing to pursue funding for construction of the project.
The Cattle Point Road Realignment FEIS is available to view or download at www.wfl.fhwa.dot.gov/projects/wa/cattlepoint/ or https://parkplanning.nps.gov/parkHome.cfm?parkID=340. A print copy or CD of the FEIS may be requested at e-mail us. Print copies of the DEIS are also available for view at the following locations:
San Juan Island Library
1010 Guard Street
Friday Harbor, WA 98250

National Park Service
650 Mullis Street
Friday Harbor, WA 98250

American Camp Visitor Center (NPS)
4668 Cattle Point Road
Friday Harbor, WA 98250
San County Public Works
915 Spring Street
Friday Harbor, WA 98250

Federal Highway Administration
610 East Fifth Street
Vancouver, WA 98661
Last updated: March 1, 2015