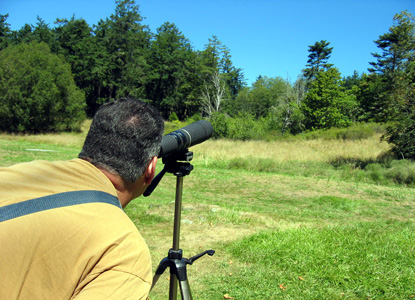 News Release Date:
May 26, 2013
Contact: Mike Vouri, (360) 378-2240, ext. 2227
Contact: Doug Halsey, (360) 378-2240, ext. 2228
San Juan Island bird expert Barbara Jensen will give a guided nature walk beginning at 7:30 a.m., Sunday, June 2 at American Camp.
The walk is free and meets in the Visitor Center parking lot. Birders are encouraged to wear sturdy shoes and bring sun block. Disabled persons should contact the American Camp Visitor Center for trail access information.
Jensen is a former national park ranger and naturalist. This is her 18th season providing bird walks for the park. She is closely associated with the San Juan Island chapter of The Audubon. To learn more about The Audubon on San Juan go to http://www.sjiaudubon.org.
This nature walk is one of 13 Special and 10 Weekly programs presented by the park in 2013. For more information about park programming follow this link.