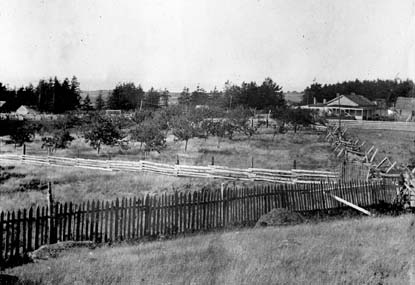 News Release Date:
May 18, 2014
Contact: Mike Vouri, 360-378-2240, ext. 2227
Contact: Doug Halsey, 360-378-2240, ext. 2228
San Juan Island National Historical Park, the San Juan Island Library and the San Juan Historical Society will celebrate the pioneer heritage of American Camp with a Fireside Program and Historical Structures Tour of American Camp's Officers' Quarters and the other structures associated with it at American Camp on May 30-31.
An evening program—scheduled at 7 p.m., Friday May 30 in the San Juan Island Library—will focus on families who played a major role in birthing settlement on San Juan Island, as well as conserving historic structures such as the Officers' Quarters (the old McRae house), which was constructed by the U.S. Army in 1856 and moved to San Juan Island during the Pig War crisis.
The next day, from noon to 3 p.m., park staff will, for first time in park history, open the interior of the Officers' Quarters to the public, as well as the old Brown house (moved to the park in December 2010), the Laundress Quarters and offer guided tours of the redoubt.
The events are being held in conjunction with "History Lives Here," a month-long celebration of history throughout San Juan County. For more information on local events visit the Town of Friday Harbor web site at http://www.fridayharbor.org/historic%20preservation/history_news1.htm. 
The park also will also be commemorating the start of the long-awaited restoration of the Officers' Quarters (the McRae house, also known officially as Historic Structure 11) interior, which will begin this year, and may be already underway, depending on maintenance scheduling.