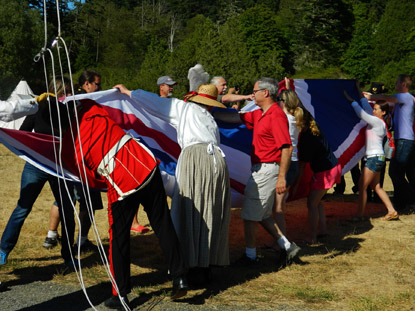 News Release Date:
March 22, 2014
Contact: Doug Halsey, 360-378-2240, ext. 2228
Contact: Mike Vouri, 360-378-2240, ext. 2227
From black powder demonstrations to weaving with natural fibers, ranger guided walks, art workshops, special Climate Change programming, period music and dancing, the park's 2014 Summer Program Schedule offers one of the most diverse and exciting summers in park history.
As always, the highlight will be Encampment 2014, scheduled July 26-27 on the English Camp parade ground. Re-enactors from throughout the Pacific Northwest and Canada will encamp for two days sharing their knowledge of the region's 19th century frontier past. On the Saturday evening of the event the park celebrates the peaceful resolution of the Pig war crisis with dancing and the traditional punch and cake during the Candlelight Ball.
The following weekend, another living history event will feature weavers from throughout the region demonstrating how European and American Indian techniques melded to create woven objects and clothing unique to the Pacific Northwest. Cowlitz Nation weaver Judy Bridges and renowned Washington State storyteller Karen Haas will join San Juan spinners and weavers to show how it was done with all-natural fibers, including wild reeds.
The park also will join with the Madrona Institute, the League of Women Voters, The San Juan Community Theatre and other partners to explore global climate change and its implications for the Pacific Northwest and the San Juan Islands. The program series entitled, The Climate Action Imperative: Understanding Impacts and Making Choices will feature distinguished scholars such as kick-off speaker Dr. Daniel Kammen, professor of Energy and head of the Renewable and Appropriate Energy Laboratory at the University of California, Berkeley. Detailed information on Kammen and other speakers, including times, and venues, will be forthcoming in the next few weeks.
In August 1914: The Year Diplomacy Broke Down, historian Mike Vouri will discuss why people stopped talking and commenced a ghastly war that claimed 15 million lives in a PowerPoint lecture 7 p.m., Saturday June 21 at the San Juan Island Library (a week short of the 100th anniversary of the assassination in Sarajevo of the Arch Duke Franz Ferdinand of Austria-Hungary). 
Park Ranger Doug Halsey will present The Victorian Internet: The Coming of Telegraphy on San Juan Island, exploring how time and distance had a profound effect on events as they unfolded during the Pig War crisis of. Learn when the telegraph arrived here and how it affected communications on San Juan Island at 7 p.m., Friday, August 8 at the San Juan Island Library. Karen Haas will return with another entertaining storytelling session at 7 p.m., Friday, August 1, in the Royal Marine Barracks; and artist Nancy Spaulding will conduct two art workshops in the field at 2 p.m., Saturdays, July 12 and August 16.
Vouri and folk musician Michael Cohen will once again join with the San Juan Community Theatre (for the 17th year ) in presenting two evenings of drama and song as George Pickett comes back to life to talk about his days on the frontier and Civil War battlefields. Shows are scheduled Friday July 11 and Thursday, August 21. All shows 7:30 p.m., San Juan Community Theatre. Tickets $15, $8 Student and $5 Student Rush. Call the theater at 360-378-3210 or visit their website at http://sjctheatre.org.
As always, each week park rangers and volunteers daily will escort visitors on explorations of cultural and natural history with a series of walks at both English and American Camps. Learn how the Royal Marines went about their daily lives, Indians pioneered salmon fishing techniques still in use today and how island farming practices also were developed at American Camp.
All programs are free and open to the public, except where noted. Programs are subject to change without prior notice. For updates on additional programs and accessibility information, call San Juan Island National Historical Park at (360) 378-2240, ext. 2233; or visit our web site at www.nps.gov/sajh or find us on Facebook.