Visiting Eel Creek and Cold Spring Harbor
Sagamore Hill's nature trail leads to scenic water views of Eel creek, a tidal salt marsh creek and a beach on Cold Spring Harbor. Read on to discover more and learn about what is and is not allowed during your visit.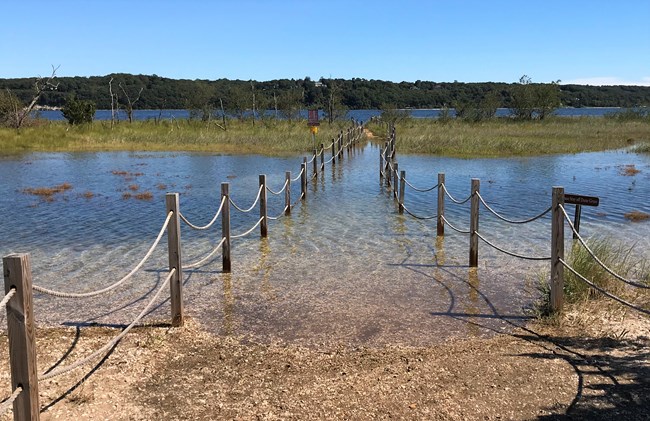 Know Before You Go: Tide-related Flooding

During new and full moon high tides and storm events, the dune area and marsh will flood, limiting access to the beach. During these tides, sea water will wash over the creek's bank and flood the sandy path that leads from the board walk. Flooding of this type can occur a few times per month, especially during the spring and fall. If going to the beach is an important part of your visit, it is suggested that you check a tides table against the moon phase. If high tide is predicted during your time of visit and you are visiting close to a new or full moon during the spring or fall, you should plan on visiting another day, as the path may be flooded or closed. There is no alternative route to the beach.

Tide Predictions - NOAA Tides & Currents

Astronomical Data - NOAA Tides & Currents
Rules and Regulations

The Roosevelt Beach area is for passive recreation only. This includes viewing wildlife, enjoying the natural scenery and feeling a connection to nature. Activities typically associated with a recreational beach are prohibited.
Stay on the path and do not enter the dune or marsh areas
Dogs must remain on leash and out of the water
Obey all posted signs
Swimming, wading, sunbathing, picnicking and all other activities typical of recreational beaches are prohibited
Coolers, umbrellas, beach furniture, and beach toys are prohibited
Collecting shells, flowers, specimens, beach debris, and all other objects is prohibited
Landing and launching boats, kayaks, canoes, stand-up paddleboards, and any other type of watercraft is prohibited
Fishing is prohibited
Alcoholic beverages are prohibited
Leave no trace – pack out all belongings and garbage
Sagamore Hill is open dawn-dusk
Help Protect Dune Grass

Watch our video on the importance of dune grass to the beach and marsh and how you can help protect it!
Visit our keyboard shortcuts docs for details
Duration:

1 minute, 32 seconds
Dune grass is an important part of the shore ecosystem as it helps prevent erosion and provides cover to a variety of animals that call the marsh and dune home. Though salt grass can survive in the harsh environment of saltwater, direct sun, and poor soil, it is susceptible to damage from human impacts. During your visit to Sagamore Hill's beach area, you can help protect dune grass by staying on trail and out of the dune area completely.
Last updated: November 18, 2021