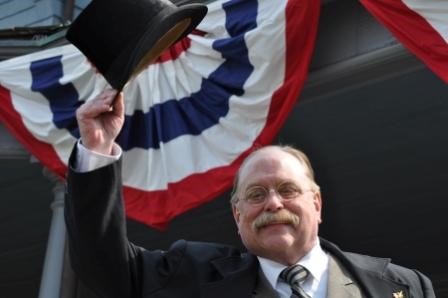 The National Park Service and the Friends of Sagamore Hill invite you to celebrate Independence Day at Sagamore Hill National Historic Site on Monday, July 4. Independence Day was an important holiday for Theodore Roosevelt. After speaking at the festivities in Oyster Bay, TR would gather his extended family and friends at Sagamore Hill for a day of patriotic celebration. This year's celebration will feature a variety of exciting programs beginning at 11:00am and ending at 4:00pm, all of which are free and open to the public.
Come meet and talk with President Theodore Roosevelt, as portrayed by James Foote. Play a part in an interactive story about famous American heroes performed by storyteller Jonathan Kruk. Watch an equestrian demonstration by "Rough Rider" re-enactors. Join in on one of TR's favorite activities, an Obstacle Walk, where the only rule is that when you meet an obstacle along the way you must go under, over or through the obstacle, but never around. Learn about the connection between Presidents and National Parks during a ranger talk. Explore the grounds and beaches of Sagamore Hill on a guided nature walk. Join in old-fashioned children's games that the Roosevelt children enjoyed and make patriotic crafts to celebrate the day.
At 2:00pm the Sagamore Hill Band will perform under the direction of Steve Walker. The Sagamore Hill Band will present works by John Phillips Sousa, period campaign songs and popular music of the early twentieth century. Seating is on the front lawn, so please bring a blanket or a lawn chair. In addition to the band performance, there will be speeches by local dignitaries, and an appearance by Theodore Roosevelt himself as portrayed by James Foote.
The first floor of the Roosevelt Home will be open to all visitors free of charge (tickets are not necessary) from 10:00am to 4:00pm National Park Service rangers and park volunteers will be available to answer questions and tell stories about family life at TR's "Summer White House."
From 11:00am to 4pm traditional American fare such as hot dogs, hamburgers, popcorn, soft drinks and ice cream will be available for purchase on site.