Recreational Trails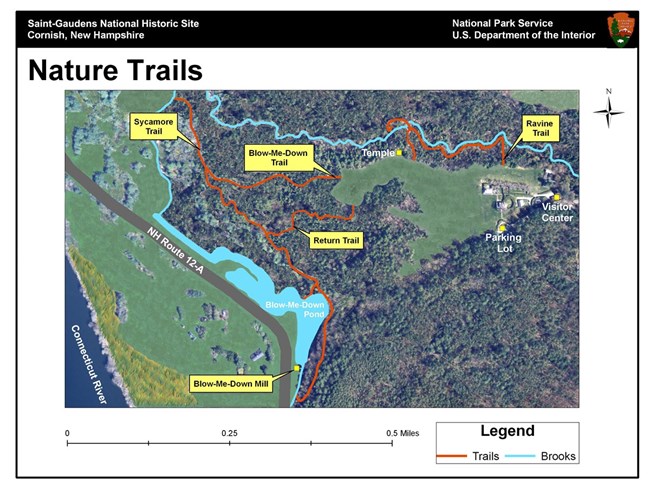 Nature Trails
Over 100 acres of the park is forested. Several nature trails wind through this woodland area. Interpretive wayside panels about the area's natural history, are located along the trails.
The Ravine trail (.25 miles) begins at the Ravine studio and ends at the Temple. The beginning and end of the trail consists of a steep slope, while the majority of the trail is flat and follows the Blow-Me-Up Brook. The swimming hole used by Saint-Gaudens is located near the western end of this trail.
The Blow-Me-Down Trail (2 miles round trip) begins at the lower field past the temple. Visitors can follow this trail all the way to the Blow-Me-Down Mill at the lower end of the park. A boardwalk near the trail's lower end takes visitors to the shallow end of the mill pond.
The Sycamore Trail (.25 miles), a spur off of the Blow-Me-Down Trail, leads to an area frequented by beavers on the Blow-Me-Down Brook.
► Sturdy walking shoes should be worn when using the trail. A map of the trail system is available at the Visitor Center.
Last updated: March 9, 2022