Picture Gallery Exhibitions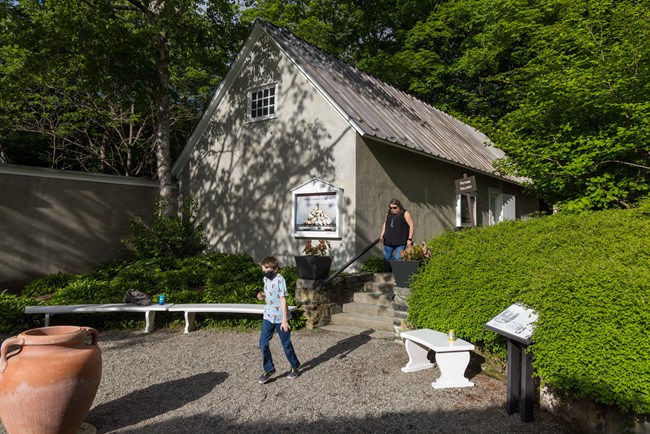 Beginning in 1948, the Saint-Gaudens Memorial has continued to sponsor a compelling series of exhibitions each summer season. The Picture Gallery, now a light-filled exhibition space far removed from its chicken-house origins, is a regional cultural hub and a valuable exhibition space for American art.

The space provides an important art venue for visitors to the park from distant locations and local communities. Contemporary art exhibits are occasionally interspersed with historical exhibitions featuring works from the park's collection. The annual exhibitions are organized through collaboration between the park and the Exhibitions Committee of the Saint-Gaudens Memorial.

Exhibits are included with park entry free and open during normal park hours. There is no admission fee for the evening opening receptions.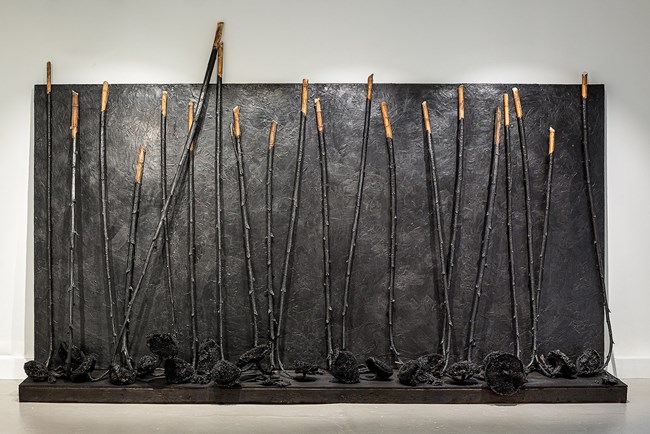 Past Exhibitions
The Nature of Memory
Nancy Winship Milliken
August 19 - October 29, 2023

Describing her sculpture as "contemporary pastoralism," Winship Milliken is inspired by our age-old relationship to nature as a way to consider ecological questions in the present. She creates environmental and site-specific sculptures in both urban and rural settings using natural materials like sheep's wool or earth/clay from pasture fields surrounding the studio. Her design is based around the principle of keeping materials close to their original state with the goal of transforming the viewer, not the materials. Winship Milliken's work, whether site-specific, or in the gallery setting ultimately addresses complex issues involved in sustainable living. Much of the work is made in collaboration with farmers, artisans, poets and environmental studies interns from universities all over the nation. The studio culture creates the space and time for mentoring creative environmental leadership.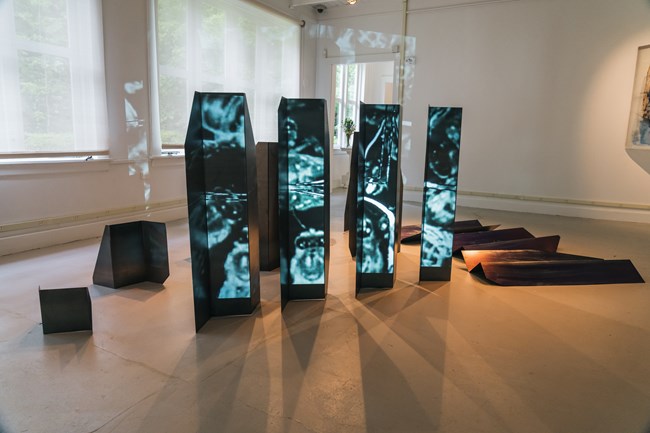 Ughegbe \ Mirror
Eto Otitigbe
May 27 - August 7, 2023
Ughegbe \ Mirror is an exhibition of new sculpture and drawings by polymedia artist Eto Otitigbe. For this exhibition Otitigbe interweaves Afrofuturism, architecture, technology, science fiction, and organic materials to create works that speculate on our present relationship with the natural environment. "Ughegbe" is the word for mirror in Uhrobo, the West African language of Otitigbe's cultural heritage.
An award-winning artist and curator, Otitigbe has had work and curatorial projects featured in public spaces, museums, and galleries around the world. He is an Assistant Professor of Sculpture at Brooklyn College with degrees in engineering and design from M.I.T. and Stanford, and in Creative Practice from the University of Plymouth. Much of Otitigbe's work explores history, culture, and community as it pays special attention to forms and patterns that reference the natural world. Otitigbe is the 2022 recipient of the Saint-Gaudens Fellowship, an annual award presented to an emerging artist from the Saint-Gaudens Memorial.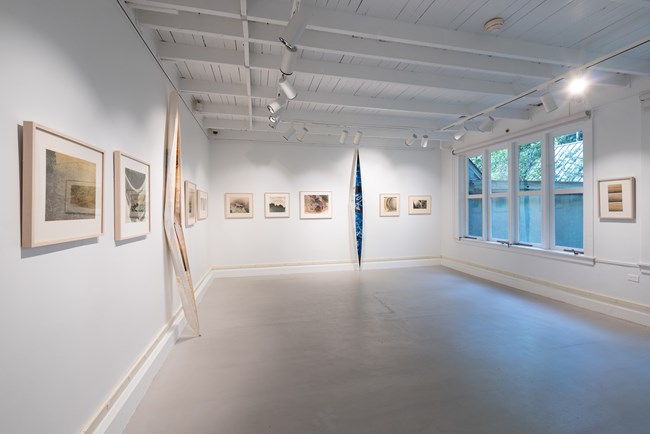 One River, Many Views
Nancy Diessner, Brenda Garand, and Janet Pritchard
July 23, 2022 - October 30, 2022
One River, Many Views features the work of Nancy Diessner (MA), Brenda Garand (NH), and Janet Pritchard (CT), whose work responds to the Connecticut River's beauty, its power, and its history. These artists work in a variety of media, including photography, drawing, printmaking and sculptural forms, at times using the river water, its soil and its flora as part of their artmaking process. In addition to the artwork, this exhibition will feature commissioned wall labels written by ten members of the Upper Valley community who live, work, and otherwise engage with the Connecticut River. These include creative writers, scholars and residents, as well as those from the Indigenous, agricultural, recreational, and other communities for whom the river is an important part of their daily lives. Their responses – reflective, celebratory, or interrogatory, will highlight the diverse natural and cultural histories and relationships with this imposing body of water. The exhibition seeks to encourage discussion as well as awareness of the ways that one topic can hold multiple approaches, opinions, expertise, and experiences.
Last updated: November 27, 2023