Abraham Lincoln in Cornish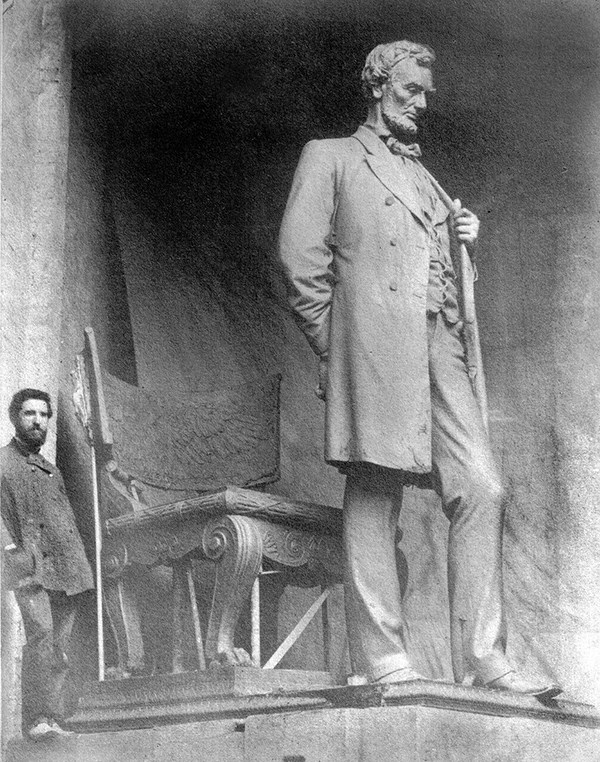 Sunday, June 26, a 12 ft tall monumental bronze cast of Augustus Saint-Gaudens' sculpture Abraham Lincoln: The Man (also known as the "Standing Lincoln"), was unveiled at the park. It greets visitors as they enter the park grounds.
Saint-Gaudens National Historic Site is New Hampshire's only national park. Located in Cornish, the park preserves the studios, home, and gardens of American sculptor, Augustus Saint-Gaudens (1848-1907).The placement of the 12 ft. bronze cast on the grounds will be the culmination of the park's golden anniversary celebration. The Standing Lincoln will be the first new sculptural addition to the park's landscape since the Shaw Memorial bronze was unveiled in 1997.
In 1885, Saint-Gaudens began working on modeling a monument of Abraham Lincoln for Lincoln Park, Chicago. Saint-Gaudens's friend and attorney, Charles Beaman, enticed the artist to come to Cornish to work on the piece, promising that the area had "many Lincoln-shaped men" who could be used as models. The Standing Lincoln became the first monument Saint-Gaudens would complete in Cornish. Robert Todd Lincoln, the president's son, remarked that Saint-Gaudens's monument was the very best of the many Lincoln likenesses he had ever seen.
Because of its quality, as well as its subject, the monument has been recast several times, usually for diplomatic purposes. In 1920, a cast was presented to Great Britain and placed in Parliament Square. In 1964, as a symbol of Mexican and American friendship, President Lyndon Johnson presented a copy of the statue to Mexico where it was placed in Parque Lincoln in Mexico City. President Johnson would sign the legislation creating Saint-Gaudens National Historic Site soon afterwards, and a smaller bust from the Standing Lincoln was presented to Johnson at the same time. This bust of Lincoln by Saint-Gaudens, can be seen in many Oval Office photos of presidents since that time.
"The Standing Lincoln is in many ways the reason we have a National Park in Cornish today," said Saint-Gaudens National Historic Site Superintendent Rick Kendall. "Saint-Gaudens moved to Cornish specifically to work on this piece, and found a local model to pose for the sculpture. It would be the first monument he would complete here in New Hampshire. And finally, the popularity of the piece and its use in sculptural diplomacy undoubtedly greased the gears that would ultimately see President Johnson sign the legislation creating the park. We would not have a national park in Cornish without this piece, so it is very fitting that a cast of the Standing Lincoln will finally be placed in the park landscape." The new monument was unveiled at a public event Sunday, June 26, 2016, the centennial of the National Park Service. Festivities began at 1:00 with prelude music by the 12th New Hampshire Regiment Serenade Band. Followed at 2:00 with the dedication ceremony with speakers,including Lincoln scholar, Harold Holzer.
Last updated: July 4, 2016