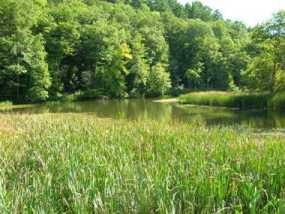 There are several types of wetlands found at Saint-Gaudens NHS. They are Tall Graminoid Emergent Marsh, Medium-depth Emergent Marsh, and Cattail Marsh which were combined to form the Emergent Marsh-Shrub Swamp System. There are also land cover types of Aquatic Bed and Cobble-Sand River Channel. The Emergent Marsh-Shrub Swamp System incorporates Blow-Me-Down Pond, which is home to Beaver, Snapping Turtles, Fishers, Green and Great Blue Herons, and Belted Kingfishers, among other animals. The pond also provides a support system for several plant varieties including Cattail, Waterweed, Water Horsetail, and Pondweed.

The original Blow-Me-Down Mill dam was built of stone in 1890, but later destroyed during the hurricane of 1938. An Amberson-type concrete dam was built to replace the original in 1939-40 and still stands today. The pond was once used to stock Cornish Colony ice houses during the winter, so that there would be ice available throughout the summer. The pond was also used for the recreational purposes of ice skating and fishing. The dam holds back about 34 million gallons of water, while the surrounding wetlands make up approximately 15 acres. The pond is part of a 28 square mile drainage system.

In 2001 a Student Conservation Association crew completed a three-week project to construct a boardwalk at the pond. The boardwalk is an extension of the Blow-Me-Down Trail and enables visitors to more fully experience the park's wetland habitat, which contains the site's greatest diversity of flora and fauna.