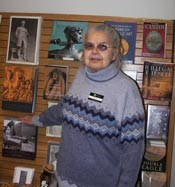 Saint-Gaudens greatly appreciates all the time volunteers donate in helping the park operate at its highest potential. The park offers many opportunities for individuals and groups to spend time volunteering in various departments within the park: interpretation, collections, grounds maintenance, and natural resources.

Interpretation
Conducting house and grounds tours
Staffing the park's museum shop
Modeling for sculpture classes
Helping park staff on concert Sundays
Collections
Organizing curatorial storage items
Helping the museum specialist clean and restore artwork
Researching information on rare museum pieces
Grounds Maintenance
Creating flower arrangements for placement around park buildings
Aiding grounds staff with lawn care and gardening
Repairing and remodeling small park structures and fencing
Natural Resources
Clearing the park trails of organic material
Collecting debris and trash from parking areas around the park grounds and surrounding road
Assisting with invasive plant removal
These are just a few of the jobs available for those interested in volunteering at the park. For more information about any of the above and other positions, please contact:

RV'ers - Opportunity for Summer-Fall 2017

We are especially looking for a couple with an RV to volunteer from early August through October 31. Duties include a mixture of assisting with interpretive tours, fee collection, staffing the Eastern Bookstore, and general visitor services. RV Volunteers each generally work 32 hours a week.

An RV pad with the usual hookups is located a short walk from the Visitor Center in a secluded, pleasant location in a non-public area of the park. Wifi is available. Laundry facilities are located in the park maintenance building.
Background checks are required and fees will be covered by the park.

For more information please go to https://www.volunteer.gov/results.cfm?states=NH
or contact the park.

Gregory Schwarz
Chief of Visitor Services
(603) 675-2175 x107
e-mail us
Download a volunteer application at this link, and send back to the park. Let Saint-Gaudens know how you would like to get involved!