New Waterfront Walking Tour
Date:
May 27, 2007
Contact:
John Cunnane
, 415-561-7123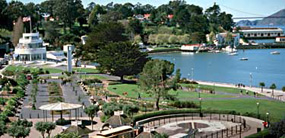 Offered Free, Saturdays, 10:30am, from June through August, 2007

Over the last 160 years, industrial and recreational uses changed the environment of San Francisco's northern waterfront. Take a stroll with a San Francisco Maritime National Historical Park ranger to discover the history of this vibrant waterfront area on an interpretive tour through the Aquatic Park Historic District, the Argonaut Hotel/NPS Visitor Center complex, Hyde Street Pier, and "Fish Alley" at Fisherman's Wharf.
The tour is free, one hour long, and approximately one mile, with some gently sloping and uneven terrain. Dress in layers, wear sunscreen, and good walking shoes. Meet in the lobby of the Argonaut Hotel, 495 Jefferson Street, near the corner of Jefferson and Hyde Streets.
This program is a cooperative effort with our park partner, the Argonaut Hotel.
San Francisco Maritime National Historical Park is located at the west end of Fisherman's Wharf, in San Francisco. The park includes a magnificent fleet of historic ships, visitor center, maritime museum (closed for renovation) and library. For more information about the park, or its public programs, please call 415-447-5000 or visit the park's website at https://www.nps.gov/safr.

Last updated: March 1, 2015