Date:
March 20, 2007
Contact:
John Cunnane
, 415-561-7123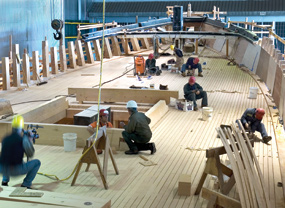 San Francisco – After a major restoration of more than three years, the National Historic Landmark C.A. Thayer will return home to San Francisco Maritime National Historical Park in April 2007. The magnitude and extent of this restoration is virtually unprecedented in the history of modern maritime preservation, ensuring that this 156-foot long wooden schooner can survive for another hundred years.
A ranger-led program describing the Thayer's history and restoration will take place alongside the Thayer on Hyde Street Pier at 1pm on Thursday, April 12, 2007. The program is free to the public.
"This project has been a labor of love for all of us who were privileged to be involved," said San Francisco Maritime National Historical Park Superintendent Kate Richardson. "On a practical level, we have preserved a vital piece of American history and culture. On an emotional level, we have breathed life back into the hopes and dreams of the men and women who lived on, for, and by the sea. Thayer is a legacy of opportunity and independence that I am proud to pass along to future generations."
The C.A. Thayer is now structurally sound and watertight. Additional restoration work will continue at Hyde Street Pier for a number of years, with the goal of preparing Thayer to sail once again. Ongoing projects will include restoration of her sailing rig, completion of the forward deckhouse, and installation of interior fittings. Special guided tours will allow for visitation during much of this work.
"Look for interpretive programs and events keyed to each milestone of the finishing process," stated park Chief of Interpretation Marc Hayman. "We will be involving visitors and volunteers alike, not only to better explain the work, but to provide hands-on stewardship opportunities for the whole community."
The Restoration and Preservation of the C.A. Thayer
Under the care of the National Park Service since 1977, the Thayer has received regular maintenance and localized replacements of her wooden timbers. However, her main structural timbers were all original material from 1895. Although massively built of tight-grained Douglas Fir, vessels of her type were designed for a working life of about twenty years. By the mid-1990s, Thayer's framing timbers were soft with dry rot. The hull sagged down at the bow and stern, significantly deforming the keel by 16 inches. The overhang of the stern was in danger of falling off entirely. If the vessel were to be saved, she would have to be rebuilt from the inside out, cutting out and replacing any timber that showed signs of rot.
The rebuilding process began in December of 2003, when the Thayer was towed to the Bay Ship and Yacht Yard in Alameda, California. Following removal of her masts and deck machinery (such as capstans and winches), the vessel was hauled onto a floating dry dock and supported in a massive steel cradle. House-moving dollies shifted the cradle aboard a barge, and tugboats towed the barge to the old Naval Air Station. The movers carefully rolled Thayer ashore and into a huge seaplane hanger.
After a precise laser scan to document the hull shape, workers carefully dismantled the hull, stripping off the outer planking by hand to expose the rotted frames or "ribs" underneath. Heavy jacks and braces then were used to straighten the hull. Piece by piece, over many months, the individual timbers were replaced with original type Douglas Fir material. Using traditional methods, workers eventually replaced nearly 85% of the ship's original timbers. "Because our aim was to preserve an authentic example of Pacific Coast maritime history, we used only original type fastenings, including square-section spikes, steel rod drift bolts, and  wooden tree-nails (hardwood dowels) in the restoration," said Steve Canright, the park's Curator of History. The carefulrebuilding of the C.A. Thayer represents a piece of wooden shipbuilding work not seen in this country since the Emergency Fleet Program of World War I. The total project cost was close to fourteen million dollars.
"The restoration and preservation of the C.A. Thayer is an ongoing process, but the hardest work has now been accomplished," said Canright. "She brings us into physical contact with the thoughts and the experiences of her builders and crew, challenging us to learn from her. Her form and fabric speak of the lumber coast, her rigging and gear of the lives of men. We must take the time to hear them, and then work to insure that these voices are not silenced. We look forward to seeing her under sail in the years to come."
C.A. Thayer History
Built in Fairhaven, California in 1895, the C.A.Thayer is one of two remaining West Coast lumber schooners. Constructed by Danish-born master builder Hans Bendixsen, she was operated by the E.K. Wood Lumber Company of San Francisco. Thayer spent the early years of her career carrying Douglas Fir lumber from the Wood Company mill at Grays Harbor, Washington to San Francisco and Southern California, with occasional longer trips to Mexico and the Pacific Islands. 
By the early 1900s, the age of sail was ending, and steamers were taking over the coastal lumber trade. Thayer was retired from the lumber business in 1912, but she stayed alive by quickly finding a new niche supplying a shore-based salmon fishing operation in Alaska. She changed hands again in 1924 and was refitted for cod fishing in the Bering Sea. After a period of lay-up during the depths of the Great Depression, she was purchased by the U.S. Army and operated as a barge in Alaskan water beginning in 1942. Following World War II, Thayer returned to cod fishing. She has the distinction of making the last commercial voyage of a large American sailing vessel, in 1950.
The California State Park System purchased the C.A. Thayer in 1957. After a refit in Seattle, Washington, she sailed down the coast to San Francisco. In 1963, the newly opened Maritime Historical State Park put her on display at Hyde Street Pier. Thayer was transferred, with the rest of that park's holdings, to the National Park Service in 1977. She was designated a National Historic Landmark in 1984, and is now operated by the San Francisco Maritime National Historical Park.
C.A. Thayer Facts
Sparred Length           219 feet
Length on Deck          156 feet
Beam                         36 feet
Depth                         11.38 feet
Gross tonnage           453
Height of mainmast     105 feet
General Park Information
San Francisco Maritime National Historical Park includes a magnificent fleet of historic ships, a visitor center, and maritime library. The park offers both regular programs and special events. For more information about the park and its public programs, please call 415-447-5000 or visit the park's website at https://www.nps.gov/safr.
Images are available at https://www.nps.gov/safr/photosmultimedia/photogallery.htm(Note: the Maritime Museum at 900 Beach Street is closed for renovation. It will reopen in 2009.)