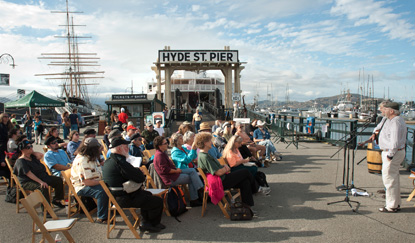 News Release Date:
July 17, 2013
Contact: Lynn Cullivan, 415-561-7006
 What: A music festival celebrating our international maritime heritage through performances on two outdoor stages, and aboard two historic floating vessels, all at Hyde Street Pier.
When: Saturday, September 14, 2013, 9:30am – 5:30pm.
Where: At San Francisco Maritime National Historical Park, on Hyde Street Pier.
Admission:  Outdoor stage performances, free. Boarding historic ships: $5 adults, ages 15 and under, free. Free with national park passes. No advance tickets. Purchase boarding tickets on Hyde Street Pier.
Maritime history comes alive at the annual Sea Music Festival at San Francisco Maritime National Historical Park! Experience performances of sea chanteys, shore songs, Pacific Island dances, Chinese and Italian music and song, and traditional Celtic instrumental music on Hyde Street Pier and aboard historic vessels. 
Performers include Gordon Bok, Irish fiddler Liz Carroll, William Pint and Felicia Dale, the Rahiti Polynesian Dance Company, the Chinese Instrumental Ensemble, Shay Black, Jeff Warner, Holdstock and Macleod, Dogwatch Nautical Band, Amelia Hogan, Salty Walt and the Rattlin' Ratlines, Nicola Swinburne with members of the San Francisco Mandolin Orchestra, The Hot Frittatas Duo, Richard Adrianowicz, Celia Ramsay, Riggy Rackin, Megan Messinger, Aaron Clegg, Fiddle Rising, Melani and Sarah, Nathalie Reginster, and Autumn Rhodes.
 ### 06-28-13